I hadn't heard of ThrityOne until about 6 months ago when I read a blog that was having a giveaway. ThirtyOne is a faith based direct sales company that sells Purses, Totes and other organizational items! A few weeks later at our Just Between Friends Consignment sale there was a consultant there as a vendor and I entered to win a free thermal tote. Turns out I won the free tote so when I went to pick it up I asked her about becoming a consultant. It sounded fantastic but the timing was all wrong. It was coming up on Thanksgiving and then Christmas and Truitt's birthday. She was very patient and we kept in contact and decided that I would have my launch party in January. Typically you enroll ($99) a week or so before your launch party but the timing was tricky on mine. The new Spring enrollment kit was available if you signed on 1/15 or later BUT if you were already a consultant and submitted $800 in sales by 1/15 you would get an add-on kit for FREE. We decided that we'd use my director (the lady from the JBF event)'s product at my launch party on 1/14 and if my party sold $800 then we'd sign up that day and submit my party by the next night so I could get the add-on kit for free and if we didn't make the $800 then we'd wait and sign up the following day so I could get the new kit. The average party is $450 so I wasn't expecting anywhere close to $800 but thanks to some amazing friends and family I sold $902!!!
I've already gotten my first paycheck. I decide how much time to put into it and in turn about how much money I'll be making. There are some fantastic incentives so I'm trying to book a ton of parties over the next few months and then will decide if I want to slow down or not. Right now I have a catalog party closing Sunday, a party next Wednesday, Thursday, Saturday, one the last Saturday of the month, and then the first Saturday of March.
I am LOVING having something to do and the adult contact! I guess I'm now a WAHM!!!
Excuse the poor quality cellphone pics!
My $99 Enrollment kit plus a $40 Add-On Kit I purchased
The $80 Add-on Kit I earned for FREE! (It's $200 worth of stuff!)
My $902 Party Order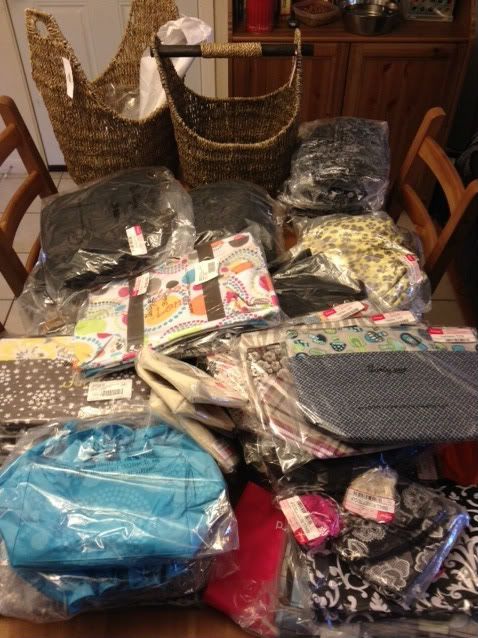 For my launch party I got to double dip as the Consultant and Hostess- this is what I earned FOR FREE for hosting a $900 level party
My hostess rewards- $150 free, $100 gift certificate, 2 1/2 priced items and 2 hostess exclusive products! A $715 retail value and I paid $146!