Goodness! It has been a total whirlwind around here lately. E gets two weeks off (starting last Monday) work for Christmas and while it's been great having him home all day we have been SO busy!!! We finally finished up buying gifts yesterday and I have a few more to wrap. I just finished make Squash Cassarole and Broccoli Cheese Rice and after Truitt's nap I will make caramel for Banoffe (banana toffee) Pie and then make our breakfast for tomorrow! Last night we had friends over and exchanged gifts and this morning my BFF and her kids came over to exchange their gifts with Truitt. Tonight we will let Truitt open one present which just happens to be Christmas pajamas that I already washed so he can wear to bed tonight! Tomorrow morning we will wake up and open gifts and then eat our Christmas morning breakfast cassarole. After presents we will clean up and head up to my mom's house (only 10 minutes away) and open gifts there and eat a traditional lunch of turkey, ham and all of the trimmings. After that we will go visit Nana at the rehab hospital-
I don't think I ever got into that... she had a really bad cough that completely ran her down so she was in the hospital for a week and then they moved her to a rehab hospital to get her strength back and she is doing much bette
r! After seeing Nana we will come home and pick up the squash, rice and pie and head to my Aunt & Uncle's house which is about an hour away. The day after Christmas we are going to E's mom's side of the family for lunch at noon and then gifts. Truitt and I have a birthday party to attend to at 2:30 and then we're doing E's dads side of the family that evening! I'm exhausted from just typing all of that out!!!
I have NO time to rest up as I will begin full out party planning mode Tuesday morning! I have to make a birthday banner, barn back drop, food cards, and print out pictures to use for decorations. Wednesday is Truitt's FIRST BIRTHDAY and I have to go order cupcakes and his party cake and then we're going to take him to Build a Bear to make a birthday bear. We hope to do this every year for as long as he's interested. We will then come home, pickup the cupcakes from the bakery and go out to eat to celebrate that night. Thursday and Friday will be more party prep and then Saturday is the big day!!! I really hope everything comes together as I'm hoping but I'm trying not to stress.
Here is how Truitt reacted to Santa:
(this is actually our second attempt. Our first one he had a similar reaction but wouldn't even look at the camera)
And here is my sweet boy all decked out for the holiday!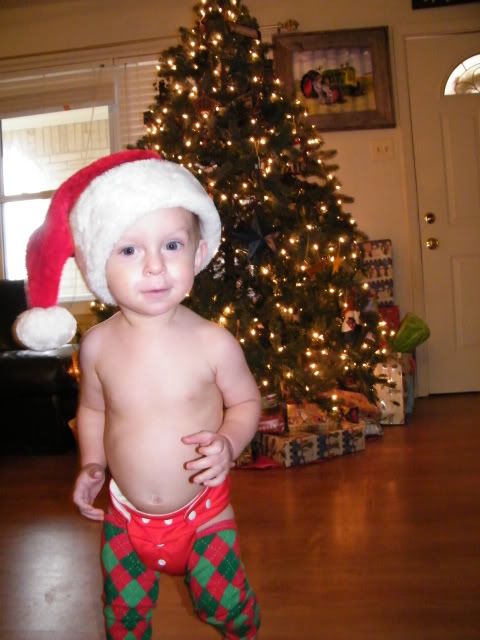 (PS- I quit taking my BC pills at the start of this week. I was going to finish out the pack but forgot two nights in a row so said heck with it!)