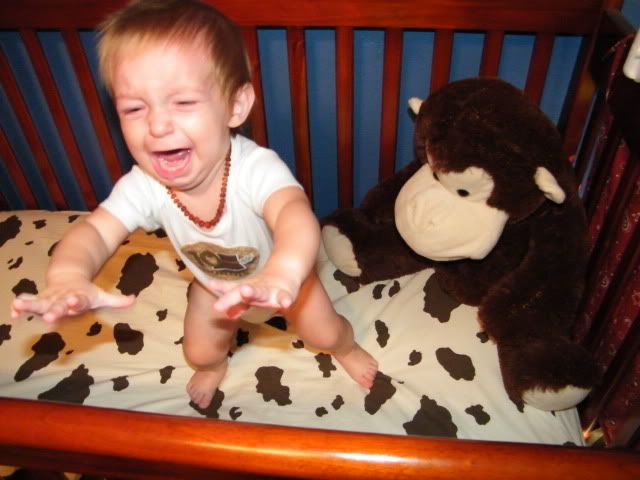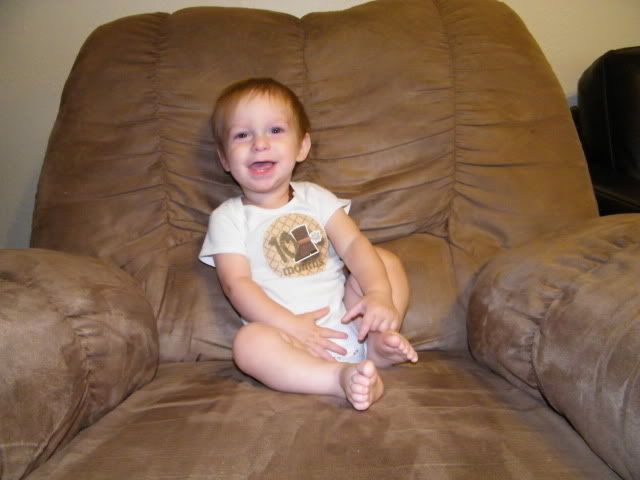 Pictures aren't that great this month because he was throwing the biggest fit every time I tried.
Size 3 diapers (although we're probably 75% cloth)
Just bumped up to 12month clothes although they're too baggy but 6-9 was too short
10 months. Double Digits. No matter how you put it, Truitt has been outside longer than he was inside. I cannot believe that in two short months- and I've definitely come to realize by now that they will be short- Truitt will be ONE YEAR OLD! Where has the time gone? As much as I love each new stage, I still miss my tiny newborn (and yes I remember my tiny newborn screamed nonstop for 10weeks) and cannot believe my baby is more toddler than he is baby!
This month has been so much fun and boy, has Truitt kept us busy! He has mastered walking. Last month he had timidly taken a few steps here and there but he took off a week after turning 9 months and that wobbly little guy has turned into a FAST and confident walker. He rarely spends any time crawling and is very steady and extremely fast on his feet. He has also mastered going out of the dog door and while E thought it was SO CUTE for him to do it drives me crazy! I know he would have figured it out sooner or later but it is exhausting running after him all day! The door does shut but then the dogs are stuck in or out. Truitt also loves drawers and cabinets. We got babyproof locks on the pantry and under the sink cabinets in the kitchen and he HATES them. He will grab onto the handles and shake the doors up and down while trying to get them open. In his room he will open the drawers and pull everything out. He also enjoying dumping his trash can.
Truitt has tried a lot of new food this month. We are staying away from fish, milk, nuts, eggs, and honey but everything else is pretty much fair game. This month he tried both meat and bread and he LOVES them both! He also had spaghetti for the first time :) I am trying my best to keep him away from processed and sugary foods but I know it is not possible to keep him away from everything bad. Truitt sits in his high chair for breakfast, lunch and dinner. He normally eats all of his breakfast which is puffs and a homemade chunky fruit puree mixed with oatmeal. For lunch he normally has organic cheese puffs, a homemade chunky veggie puree and some yogurt as well as whatever I'm eating. Supper is whatever we are eating. He still nurses on demand which is about 5 times during the day and anywhere from 3-8 times a night. He has a sippy with water available all day and we are working on a straw but he isn't making much progress on it.
Truitt FINALLY started saying Mama! While he doesn't use Mama and Dada descrimentaly he will look at either of us and say it. He had been babling mumumumumum for a while but that didn't count. He also says bye bye althought it comes out as "ahbye." This month he has started waving but instead of opening and closing his hand he waves his whole arm up and down and if you say "knuckles" he will bump fist with you! I am still signing "milk" "up" and "more" to him and while I am certain he understands them, he has yet to sign back. I have been told (as well as have read) that since he has done the gross motor skills earlier than most kids, his speech and fine motor skills will happen a little later. On his actual 10 Month b-day he started shaking his head no and it is the cutest.thing.ever!
Recently Truitt has started playing ball and I have to admit, it's adorable! He will pick up the ball, hold it over his head (or try to-his arms aren't quite long enough), throw and then toddle after it and repeat! He also LOVES playing with a battery operated 4wheler that our neighbor gave us. We kept it in the garage and when he was out there he'd make a beeline for it so E finally brought it inside. He doesn't understand to push the button to make it go but he still loves playing with and pushing it!
Sleep is about the same. We had one really good night where he slept for 6 hours straight but his normal is still to stir until he latches on to nurse about every 3 hours. Bedtime is around 8pm and he has been waking up between 7&7:30 each morning. I'm anxious to see how he reacts to daylight savings time.
I think that's about it for our update. 10 months... blows my mind!
Truitt, we love you more and more each day and you make everyone so happy. You have so much character and we love you so much! Happy 10 months sweet baby boy!