Just Between Friends
is a HUGE consignment sale where you can sell your old baby/kids/maternity items and earn back 65% (or 70% if you volunteer) and buy new things as amazing prices!!! You chose the price you want to sell your things for and then also if you want the price reduced the last day and if you want the item back of if you'd rather donate it to the Women's Crisis Centere and Pregnancy Care Center. It's basically like a really big super neat and orgainized garage sale. Prices are higher than garage sale prices but everything is nice because it's inspected before they will accept it so you're sure to get items without tears, holes, stains or any other noticable defect. I have shopped at JBF before- once when I wasn't
pregnant and was still nannying for W
, again last fall when I was
very pregnant
, and then this spring which I evidently didn't blog about. We were VERY blessed with a TON of clothes when and since Truitt was born. E's mom is a shopaholic and I'm always on the look out for a bargain so we both buy here and there. He had the biggest wardrobe for any baby boy I'd ever seen until he got to 6-9mo clothes and that's when things started thinning out. Sure, he still had plenty just not the different onesie every day that we were used to. Knowing that JBF was coming up soon I went through his 12mo sizes and while he has over 20 pair of pants he only had a handful of onesies and shirts so that was on my list. He also didn't have any footed PJs. He has been just sleeping in onesies since he's in bed with us and stays warm but with winter coming it was needed to get some sleepers.
The first day of shopping, Thursday, is the pre-sale for volunteers and first time parents. The more you volunteer, the earlier you get to shop. This year I did 8 hours (delivered postcards to daycares which counted for 4hrs and then 2 two hour shifts) so we shopped at 4pm. This is what we got at the pre-sale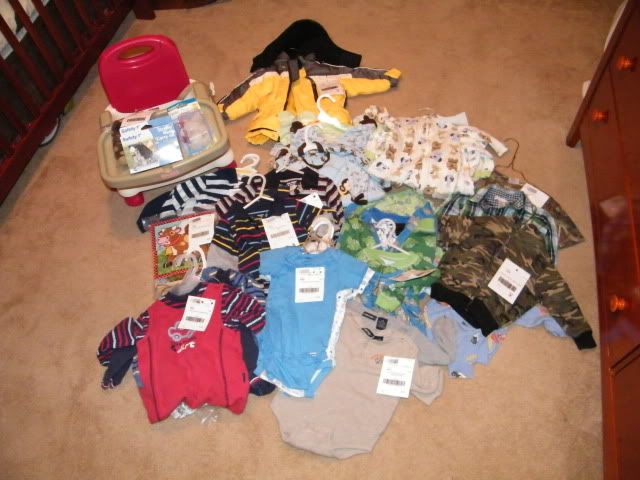 15 sleepers (10 are for my nephew), 8 onesies, 2 shirts, 1 hooded sweatshirt, 5 Long Sleeved/Pants Rompers, 1 winter coat, High Chair, Wooden Block Puzzle, Stroller Bag, Pair of Tennis Shoes, and a package of outlet covers. All of that for just under $100!!!
Friday is the day when it's open to the public so we didn't go. Saturday is HALF PRICED day. Anything that is not marked otherwise is half off the listed price. So the 2 onesies that were marked $3.00 are only
1.50! I went a bit overboard but seriously- you're never going to find anything THAT cheap. The majority of the things I bought were Carters, OldNavy, Gymboree, The Childrens Place and Baby Gap! Here's my pre-sale haul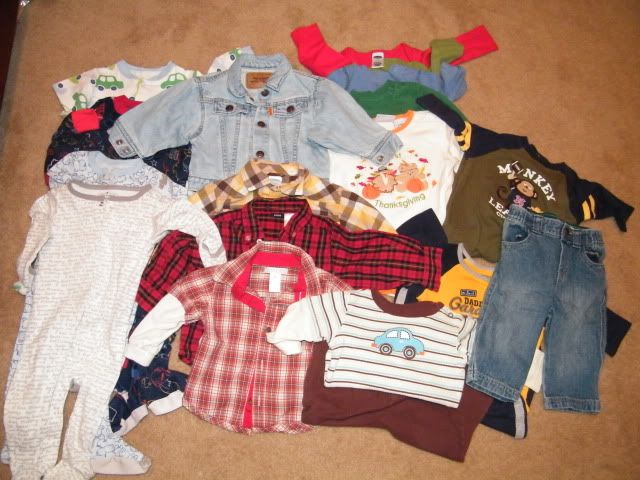 5 footed pjs, denim jacket, 5 onesies, 1 long sleeved romper, 2 onesie/pant sets, 3 button down shirts, and a pair of blue jeans all for $40!!!
E's mom went with me (E's hunting) and she got 3 pair of jeans, a pair of khakis, a moose vest outfit and a corduroy brown jacket for $20
So here's the total purchase from both days!!! All of that for just under $160.
I will find out in about two weeks how much I made but I didn't have much to sell because most of it went to my nephew and then J sends it back to me but we're keeping most of it incase we have another boy!
Here's some of my favorites!!!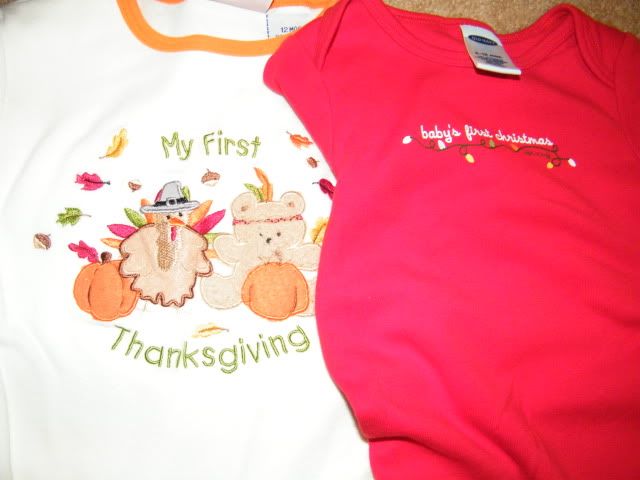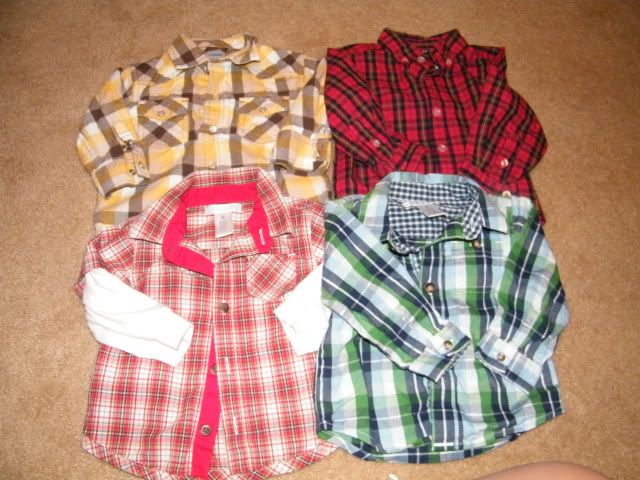 You should really check out the website and see if there's a JBF near you! Now it's time to wash everything :)