MumMums
So I thought my son was a puff addict until we tried MumMums! For those not familiar, they are rice rusks. We have tried the original, banana, and vegetable and all are a huge hit. I have tasted them (I taste everything he gets) and they aren't bad at all. They are easy to hold onto and what I love the best- they don't make a mess!
Combi Cosmo Lightweight Stroller
I really love our stroller that came with the travel system but it takes up nearly the entire back of my car. When space is an issue we take our Combi stroller. E's mom bought it and we love it. It's just slightly heavier and slighty bigger when folded up than an umbrella stroller but it has a sunshade, small basket underneath and most importantly- IT RECLINES! I hate seeing babies asleep in upright strollers and they're all crumpled over! Another plus? She bought it at a consignment store for only $20!!!
Stride Rite Tennis Shoes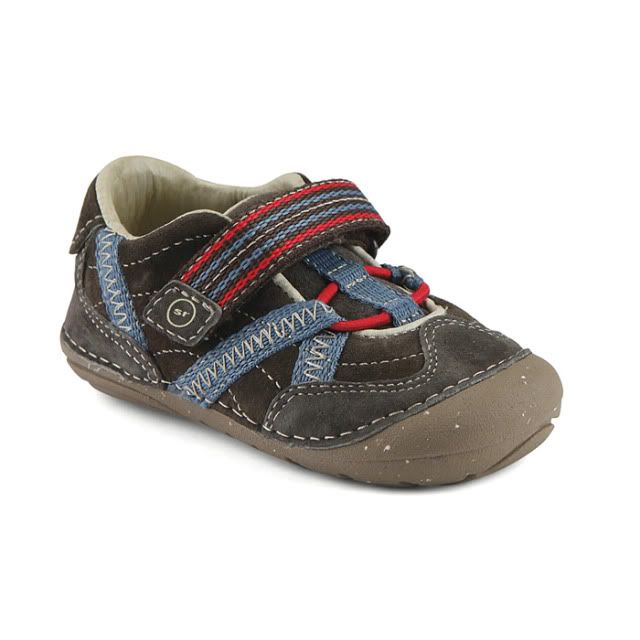 Ok... if you would have told me that I would pay $40 for baby shoes I would have told you that you're crazy...but I did. We technically I only paid $20 becauce my MIL paid for half but still. So, I thought that spending that much on shoes was crazy especially since I don't spend that much on my own until I watched Truitt try to walk in shoes. The soft soled crib shoes were too wide and offered NO support and the hard soled shoes were way too heavy and he'd just look at them so we went to Stride Rite and looked around. They make different stage shoes so we went with the "early walkers" and HE WALKS IN THEM! It was also great to have someone measure his foot accurately. We will probably keep him in Stride Rites until he's 2 years (so probably 4 more pair?)old and then may switch to cheaper shoes. Occasionally you can find them online for buy 1 get 1 1/2 off so hopefully we will snatch that up next time!
Truitt is feeling much better so I'm thinking it's all just allergies/cold/teething BUT he isn't quite good enough to sit through his 10 month pictures so I will be trying to get those tomorrow and doing his 10mo update then