When we were pregnant I quickly started researching travel systems. I knew I wanted something gender neutral so that we could use if for future children and other than that all I cared about was safety. We narrowed it down to two and went to the store and pulled them both out and E made the final decision.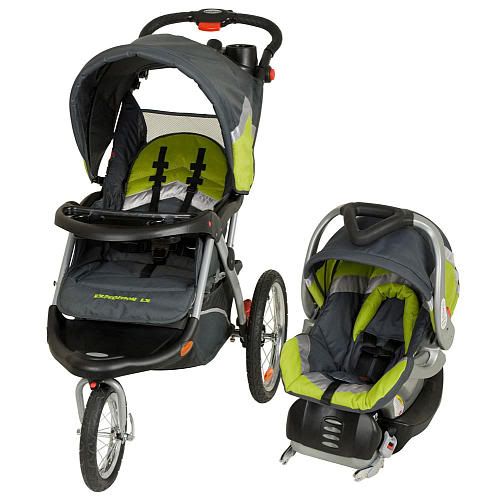 We have very few complaints, actually all I can think of now is that I don't like the sunshade on the stroller because it's not big enough so it was a fantastic seat. The infant carrier is rated safe up to 30lbs or 30in. Truitt is only 18lb 11oz now but at 6months he was 27.75in so I am sure he is VERY close to being 30in now. Also, his torso is very long so he has an inch of space before the top of his head is at the top of the seat deeming it unsafe so it was time to buy a bigboy seat.
A few months ago E's mom found the Cosco Alpha Omega seat clearanced out for a little less than $80!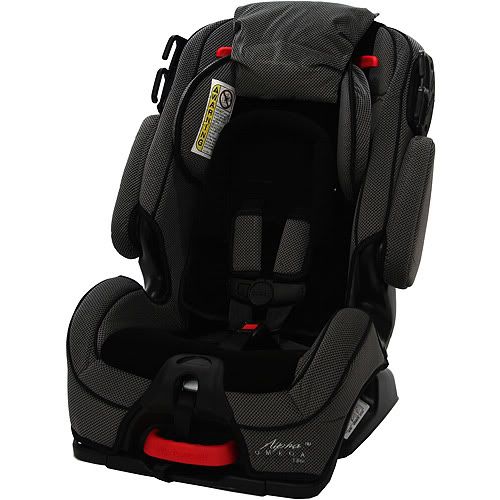 It was last year's fabric so they were over half price off so she bought two; one for her car and one for us. We put it in E's truck since the carrier was still in my car. My complaints with this seat are pretty limited... when we first put him in it at 4months, his head would fall forward when he was asleep but that no longer happens. It was VERY difficult to instal rear facing correctly. Also, it's a bit bulky (and doesn't fit in my car rear facing without touching the front seats) but it fits fine in E's truck.
So I put a lot of research into finding the right seat. One thing that I am VERY adament about is extended rear facing. Did you know that if your child is forward facing during a crash they are FIVE TIMES more likely to be seriously injured or killed? Many people say that their child's legs are cramped if they're RF or they are much happier looking forward but most children have NO problem sitting cross legged in their seat and it's actually preferred over dangling legs AND I would much rather safety over a happy baby. Truitt almost always cries and screams in the carseat so I know it's a distraction but heaven forbid we're in an accident, I hope that I have done everything possible to keep him safe.
Having said all of that it was very important for me to find a seat that has a high rear facing limit. It was also important to find something that would fit RF in my car (a small SUV) without having to scoot the front seats so far forward that we were unable to sit comfortably. I read reviews, carseatblog.com, and asked friends. We finally decided on the
Evenflo Symphony 65 LX All-In-One Convertible Car Seat
as long as it would fit.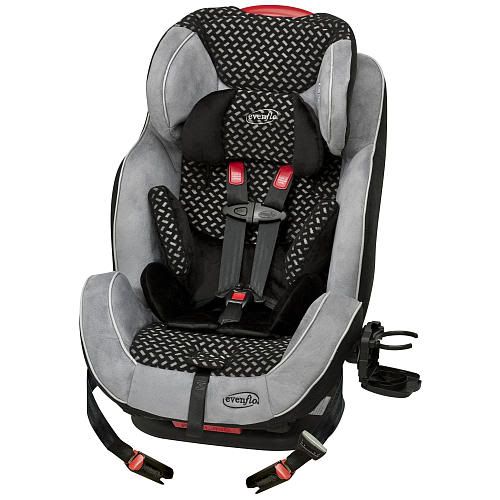 When we went to our local Babies R Us we pulled the car up and they allowed us to go outside and put the display in the car. It fits in all 3 positions (sides and middle all rear facing) and the front seats can be pushed to the second from farthest back without the carseat touching them! We also turned in Truitt's walker and got 25% off of the carseat because BRU was still doing the Trade In event.
E installed it in less than 10 minutes (much better than the close to hour the Cosco seat took) and it fits GREAT! Truitt is still less than pleased with being strapped into something but he didn't seem to mind it any more than any other seat! I am still able to breastfeed him in it while we are both buckled so that is a huge plus and he slept comfortably in it! His head does fall forward a little but I think we may need to roll a towel and put it under the base to get the extra recline. Today was our first day in the seat so I may find more pros and cons later but right now I am VERY satisfied with our purchase!!!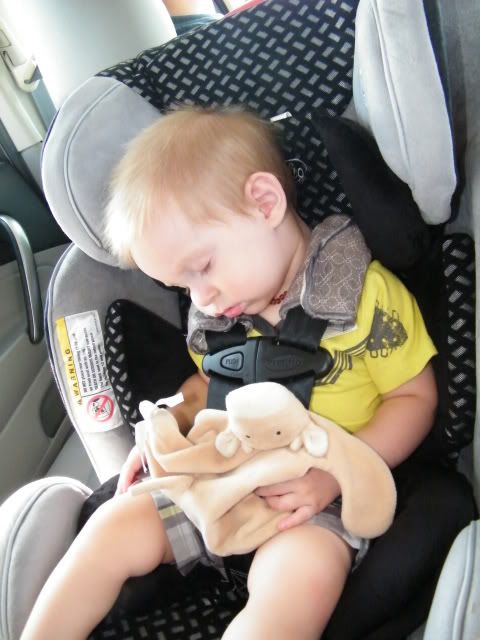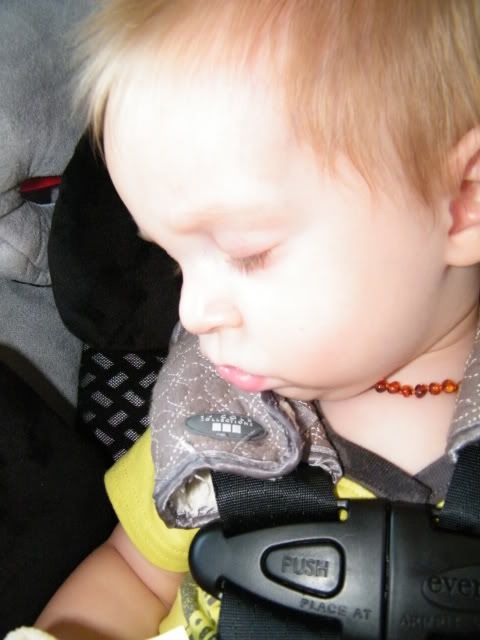 Watching dad load up the groceries