Nuby Silicone Teether
When Truitt's first tooth broke through the gum line we picked up one of these. He was chewing on it constantly until we somehow lost it. We bought another (they're less than $4 at walmart!) and he's back to gnawing on it all of the time. It's cheap, easy to clean and keeps him happy!
Fisher Price Healthy Care Booster Seat
My aunt got us this before we knew if we were having a boy or a girl and the color isn't too flatering but other than that we LOVE this high chair. Our eating area is pretty small so we don't have room for a full sized highchair and this chair, unlike the spacesaver, is short enough for the chair to be scooted all the way up and fit under the table. The tray is removable and dishwasher safe and it's so lightweight we easily took the chair with us on vacation. There is no fabric on the chair except for the straps so the only cleaning required is to wipe it down! My only complaint is the straps are not removable so they're a pain to clean.
Kiddieland Ride On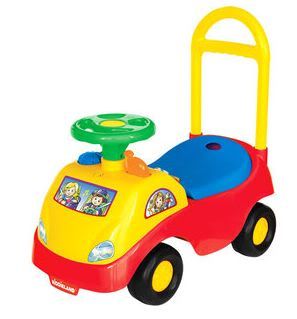 Ours is different colors but we still love it! Our neighbor actually brought this over for T to play with because their grandchildren have outgrown it. There are about 6 buttons that make noise and the seat raises up so Truitt puts things in there and then pulls them out later. So cute!!! Not only will he grab the handle and push that way but he also will push it sideways.