Truitt does go for his well visit until next Wednesday so I won't have his weight/height until then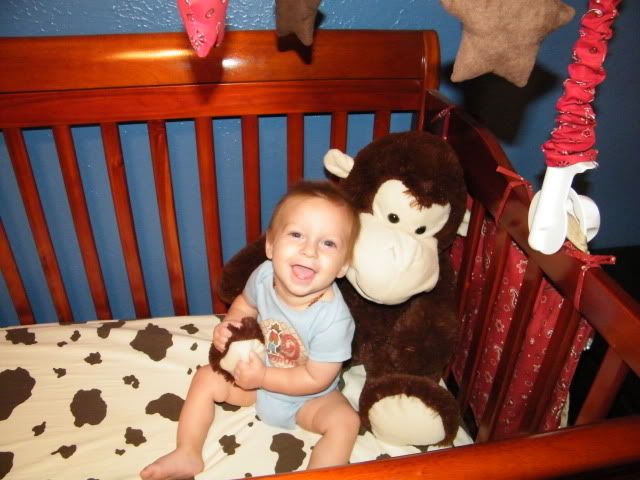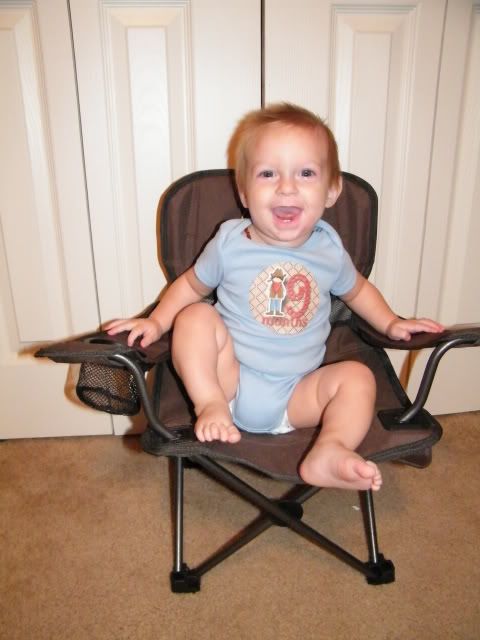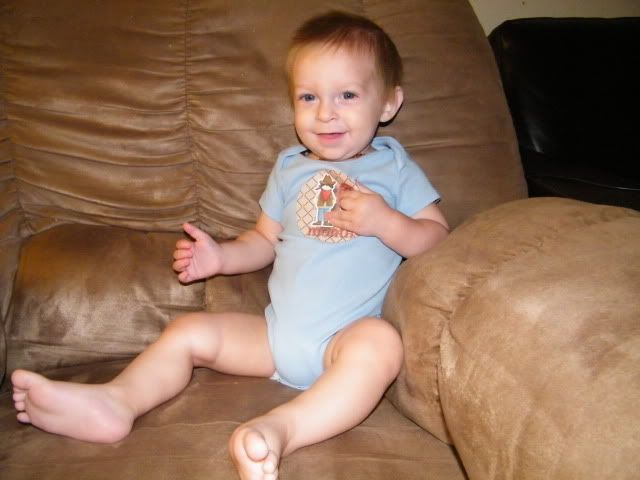 Size 3 Diapers (Although we're mainly in cloth during the day during the week!)
Size 6-9M or 9M clothing (although he's stll wearing some 3-6/6M shorts)
Size 4.5(!) shoes!
Truitt is 9 months old. 39 weeks and 1 day old(well 2days since I'm posting a day late). Tomorrow after 2:22 (well I guess that's today now)he will have been outside of my belly longer than he was inside. How are we already here?!?! Every week seems to go by more quickly than the last and he discovers new things every day. It is such a blessing to watch the world through his eyes!
This month Truitt has learned how to walk!!! He still prefers crawling as he is much faster but he will walk a few feet here in there. I started walking at 8mo and E at 10mo so we figured he would be an early walker but I still cannot grasp the concept that my baby knows how to walk! I think it will be another month or two before he walks all of the time instead of crawling.
Truitt tried new foods this month- the most exciting being daddy's mashed potatoes... It wasn't the REAL thing because he just smashed some taters without milk or butter but Truitt still loved them. He also tried cauliflower, broccoli, pumpkin, apricots, whole wheat pasta, organic cheese puffs and MumMums. He LOVES the cheese puffs and MumMums! So far we've only tried the orginial organic Mums but I'm planning on buying the veggie and banana ones next time. Truitt eats oatmeal mixed with homemade fruit puree for breakfast, lunch is normally yogurt with fruit and 1oz of veggies and supper is 3oz of chunky pureed veggies plus whatever veggies E and I are having for supper. I'm still making his fruits and veggies but instead of a thin puree everything is thick with chunks. He nurses on demand but normally he will nurse before his morning nap, at lunch time, at afternoon nap and 2-3 times before bed. Truitt still nurses to sleep and will wake 3-6 (or more) times overnight to nurse. He gets water through a sippy and will drink probably about 4oz of it throughout the day- more if he drinks from our open cup. Truitt now sits at his highchair while we are eating so it's nice to eat as a family of 3 at the table.

T still has only his two bottom teeth. When he went to the doctor two weeks ago he checked for teeth but didn't see any close to the gums but we all know this can change overnight!
Sleep has gotten bettter for the most part. Most nights we lay down right at 8pm and he's asleep within 20 minutes. He will NORMALLY go 3-5 (and has gone 6 hours twice!) hours before waking and then will go 2-3 hours until he's up for the day between 6:30-8am. Some nights he's up more and so nights less. We are still cosleeping and plan to do so until close to his first birthday. Truitt normally takes about an hour and a half nap on my lap in the recliner which isn't that bad because I enjoy the snuggles and it gives me a chance to watch last night's TV shows that I recorded both in the morning and afternoon. He sometimes takes another short nap in the afternoon but we're pretty much just on those two.

I have been signing to T for about a month now (only milk and more but I'm adding bath, dog, and thankyou this month) and he gets SO excited when he sees the sign for milk!!! He has also started lifting my shirt to access the milkies. It's still cute now but I can see this turning into a problem later.
Truitt LOVES to play outside but it's hard to keep the grass/leaves/twigs out of his mouth! He also loves to eat paper and anything he isn't supposed to have. We finally put the locks on the cabinets and drawers because he was constantly in and rearranging things. T LOVES bathtime still but lately has decided he'd rather nurse while in the tub than play. I love it! He has gotten SO much better about playing independently with toys AS LONG as he can see you.
After saying Dada for about a week he stopped and now just randomly babbles. I am slightly worried because a LOT of my momma friends have 9month olds with MANY words but I know that when babies are focusing on one skill (walking) other skills (talking) will be delayed. I will still ask his doctor about it next week but I think/hope that's all it is. We are working on waving and clapping and he's not very interested but he LOVES turning on and off the light switches! In our house we have some that are up and down and some that are side to side and he's only figured out the up and down. It is SO cute seeing his reaction to the light turning off or on!!!
Truitt is a bigtime sweetie and LOVES to give kisses! He also gets so excited when E comes home from work and will bounce his arms up and down, reach for him and then give him the biggest hug ever and lay his head on his shoulder for a second before popping back up and giving his daddy a wet kiss! It melts my heart every single time!!!
These past 9months have been such a blessing and I am in awe of my son and all that he does and shows me every day. Happy 9 Months Truitt Ray, Momma loves you SOOOOOOOOOO much!
This month's pictures went surprisingly well (that's why this is only 1 day late!) but here are the outtakes
Eyebrows?!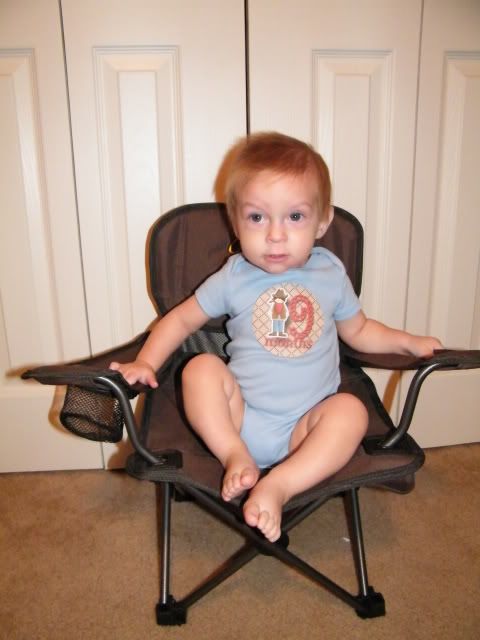 Cracking himself up
Evidently we need to talk about manners and how giving your mom the finger is NOT allowed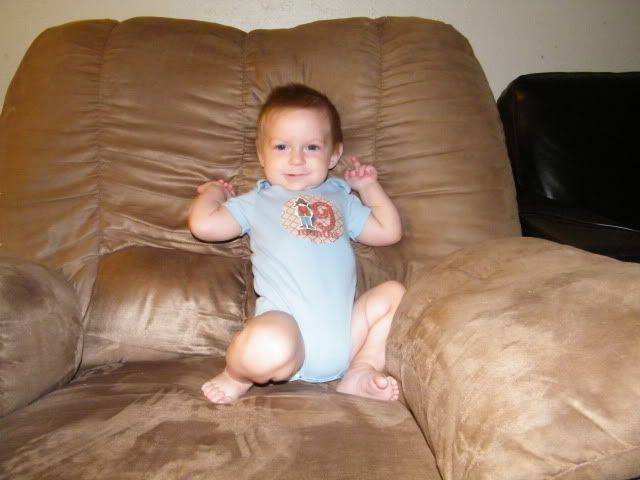 This is what he does when you say "I'm gonnnnnnnnnna get yooooooooooooou!"