This post is a few days late because it took FOUR tries to get pictures- this kid does not sit still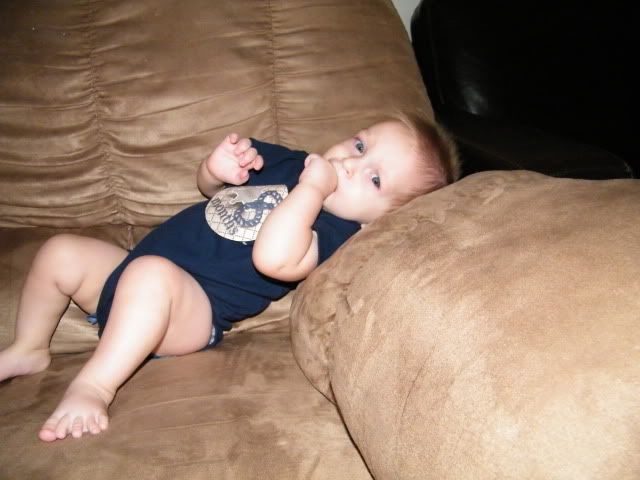 How is it already time for this again?!!?
Size 3 diapers
FINALLY in all 6-9month clothes (with a few pair of 3-6mo shorts)
What a fun month this has been! Truitt is a VERY fast crawler and can get anywhere in the house now. He is standing on his own without needing to pull up on anything and starting to climb! He is very brave and that normally results in bumps and bruises and Mommy's heart skipping a few beats. His favorite things to get into still seem to be the toilet paper and the dog food and water bowls but he also loves anything that he shouldn't have. We finally bought babyproofing supplies to keep the cabinets and drawers closed. Truitt, I love you more and more every day- you are such a pleasure and keep everyone so happy!
Truitt is still nursing on demand and other than when his teeth came in and he was nursing more often, he seems to eat about every 1-3 hours during the day and 1-4 hours at night. This month he tried organic goat's milk yogurt, asparagus, kiwi, cherries, and blueberries. Normally he eats about 2 tablespoons of oatemeal mixed with a homemade fruit puree and either juice from cherries or blueberries mixed in. He also LOVES puffs and has a few of those while I'm getting his oatmeal ready. For lunch he eats 2oz of veggie puree and about an oz of fruit. Supper time he eats 2oz of fruit and 2oz of veggies plus whatever veggies E and I are eating. He is getting very good at feeding himself and loves "big people" food. He really loves it when I'm making a batch of food and he gets to eat the chunked up steamed fruit! Throughout the day he will also eat whatever fruit I happen to be eating. Truitt always has a sippy of water around but rarely drinks much from it however he will gulp down water out of a bottled water or open cup if you help him a little. Breastmilk has a LOT of water in it but since he's eating solids he needs some plain watered also. We are not planning on doing juice anytime soon.
Sleep has (I hate to say this and jinx something!) gotten better! Most nights he will go 3.5-4.5 hour stretch when we first lay down between 8&9. One night he even went FIVE hours without waking!!! After the first long stretch he will normally sleep another 2-3 hour stretch and then he's up hourly until we start the day between 6 and 7:30. He takes an hour-hour and a half nap around 8 and then a cat nap around noon followed by another decent nap in the early afternoon. We've pretty much cut out the early evening nap (Truitt's choice) and I think that may be why we are doing better at night! T is still in our bed and I think that's how it's going to be until he's weaned.
This month Truitt got in his two front bottom teeth. He also has started saying "Dada" and SCREACHING a lot. He is SO much fun and such a joy. I cannot believe my baby boy is 8 months old!!!
And some outtakes: