Sophie The Giraffe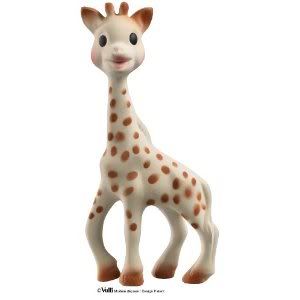 Okay, I was NOT going to spend $24 on a teether... no matter how much everyone raved about it I just couldn't do it. Truitt's Memaw on the other hand saw it and bought it for him. Let me tell you, we have gotten way more than $24 worth out of it! Truitt LOVES her and chews and squeaks on her for so long. I guess it really is worth the crazy amount! I think we are going to call it something other than Sophie though because one of our dogs is Sophie.
Munchkin Star Fountain

Truitt LOVES bath time and this toy has made it more enjoyable. The star floats and spins while flashing and spraying water. He loves playing with it until it sprays him in the face but quickloy forgets and gets sprayed again
Vtech Discovery Nursery Farm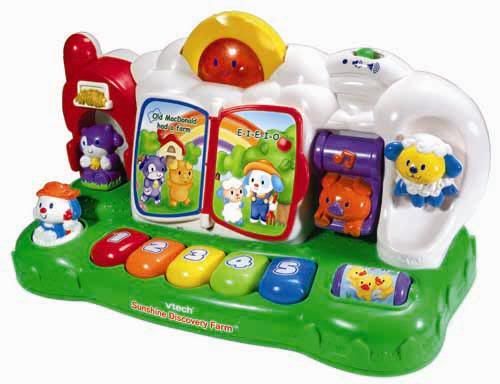 Truitt's Memaw has this toy at her house and while I'm not a fan of music making toys I saw it at one of my friend's garage sale so I decide to pick it up. It was a LIFE SAVER on our trip this past week. When nothing else would calm him down this did. It plays several songs (You Are my Sunshine, Farmer and the Dale, Old McDonald, Bingo, Mary Had a Little Lamb....) and does colors, numbers and animal sounds.
Mesh Feeder
T isn't too big on purees lately but LOVES eating through his mesh feeder. We have tried steamed carrots, Watermelon, Cantaloupe and Apples in it. It is also VERY nice to take with us when we go out to eat so he can eat without the mess.