I have said that we were going to wait until 6 months until introducing solids to Truitt. The reason
I
decided this is because breastmilk (or formula) provides all that
most
babies need for at least 6 months-sometimes closer to a year; a baby's stomach is quite immature until around 6 months and not capable of properly digesting; the early introduction of solids has shown to lead to a SIXFOLD chance of childhood obesity; and early introduction of solids has been proven to cause a higher occurance of Irritable Bowel Syndrome, Chrone's Disease, and other GI problems later in life. I have heard "well I fed my baby mashed potatoes when they were 3 months old and they turned out just fine" so many times and while yes they are just fine, maybe (or maybe not!) that's why they have IBS and gallbladder disease as an adult? Yes, I know that there are TONS of causes of these problems but if I can reduce or eliminate just one of the causes I think I'm doing something good.
T also wasn't ready for cereal when I
gave into everyone's comments and tried it at 18 weeks (4.5months) old
. Granted, I know every baby is a messy eater but the difference in trying to spoon feed him then, and then trying again in 2 weeks and then finally when he was ready for it 1 week after that at 5 months old was remarkable! Babies have limited resources to protect themselves but I strongly believe that the tounge-thrust reflex is one of those. I feel like once THEY are ready then it is obvious because of what we saw with our cereal experience.
Anyway, having said all of that, Truitt started showing signs that he was really ready for food around 5 months. He intensly watched E and me eat and would pull our hands to his mouth. His tounge thrust reflex was gone and he tried to steal our food and silverware. SO, I broke my 6 month rule and we started BANANA on the 12th at 5.5 months, a few days shy of 24 weeks. Truitt L.O.V.E.D it! We started by just letting him taste mine. The tasting turned into him eating 1/2 of a small banana! He prefers it whole but as it gets too mushy (and a choking hazard) I put it in a bowl and mash it up with breastmilk and then spoon feed him.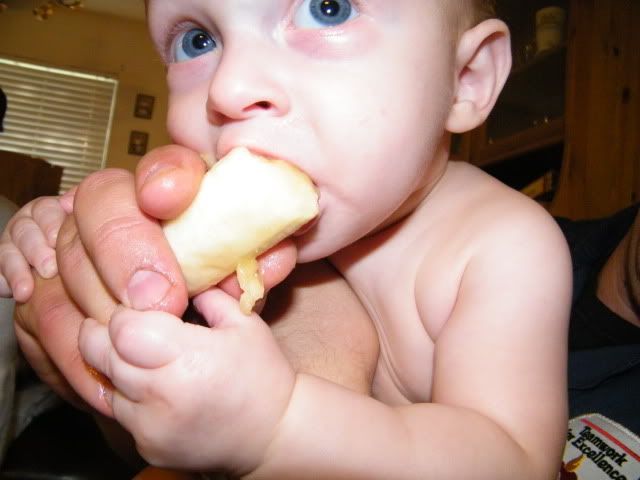 We stuck with banana once a day for 7 days to make sure he handled it well and he did. Diapers though- EW! I sure miss his breastmilk poop! Thank goodness the naner poops have only happened in disposables but I know it's going to happen in cloth sooner or later!
Yesterday we tried avocado! At first he wasn't too sure of it but quickly decided that he liked it and ate 1/4 of an avocado mashed (without breastmilk).
We will continue with just banana and avocado for 4 days and then add apple. I am planning on buying a
mesh feeder
and putting raw apple in it and then making applesauce to feed him by spoon. After apple we will do green beans and then either peaches, pears or sweet potatoes! This time is so much fun but it definitely is a little sad that he is growing up so fast!
He still nurses a LOT and isn't fond of bottles. He nurses on demand every 2-4 hours during the day-much more like every 2 but if we're out then he's too distracted to eat. He still wakes about 3-6- closer to 6- times a night to nurse althought most of it is probably for comfort and not hunger. We have tried a sippy cup with water in it (didn't want to waste pumped milk if he didn't like it) and he just bit the spout and spit out the water!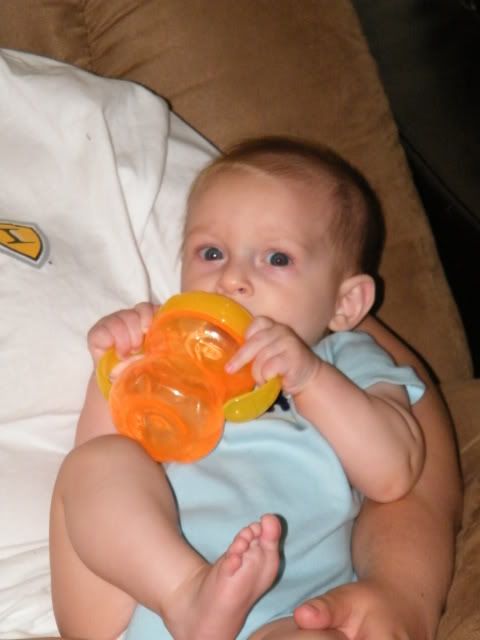 We chose our foods based on
http://www.wholesomebabyfood.com/
and I still intend on making all of his babyfood!