I never had much desire to CD but my sister J is planing on it and at a local consignment sale they had the gdiaper covers (I don't like the idea of using stranger's inserts but covers don't bother me) so I bought them for
me
her and figured Truitt would try them out since J's baby boy isn't due until June. I love the idea of saving money and also appreciate the eco-friendly aspect. So, I bought some disposable/flushable/biodegradable inserts as well as the cloth. I HATED the disposables because they're very scratchy. The cloth were soft and the diapers were still SUPER trim fitting (and adorable) but he leaked through almost every one and that's with me changing him at least every 2 hours! Come to find out, the g's have to be on JUST right- not too tight or loose or they don't work. I've also heard they leak more with baby boys than the little girls. T's would leak from the waist band down- crazy!
Anyway, my sister heard of a local (well, 45 min away) cloth store where they go through the different brands and help you decide what will work best for you. I went in there thinking I wanted in All In One (AIO) where I didn't have to worry about inserts or anything. I also thought I wanted a One sized diaper so we wouldn't have to buy more as he grows. Seeing my choices in person (rather than on the internet) changed those decisions! First of all, the AIO aren't practical for me in that you wear them once and then you have to wash them so even if I'm just CDing part time while E is at work I'd need probably 5 diapers a day and have to wash every night. One sized are SOOO bulky! They have snaps to where as baby grows, you let out snaps to expand the diaper but when they're all snapped in the smaller size they look so huge! So this led us to an "All in Two" diaper. Similar to the gdiaper but this one only has the cover and insert- no liner. I went with
Tuck and Go (TAG) by Monkey Doodlez
. They are super trim and fit T great! He is in the medium size which fits 12-28lbs so for some early potty trainers, they never get out of this size! Instead of the liners that come with the diaper I bought some that were made by my local shop and I really like them. They are a 4 layer made from 2 layers of thick Hemp/Organic Cotton Fleece sewn together and then 2 layers of thick Microfiber Terry and a layer of ultrasoft microchamois sewn together. Then the two are sewn together at the top so that they dry much faster than if all 4 layers were sewn together in one piece. After a wet diaper you just drop out the wet insert and if the cover is still dry you put a new insert in or if the cover is damp you can set it aside to dry and use another cover going back to the first next change. I bought 2 covers and 4 inserts and so far so good! T had a nasty antibiotic poop and we didn't have any leaks. He is also staying completely dry when he has a wet diaper! My only complaint- they don't come in cute prints, just solid colors. Hopefully the maker will start making prints!!! I will use them all next week while E is working and if they go over well I will be buying more so that I don't have to wash as often!
*This is my own opinion and was not asked to write this review, nor will I be compensated in any way*
Look at that fit!
Fluffy tush!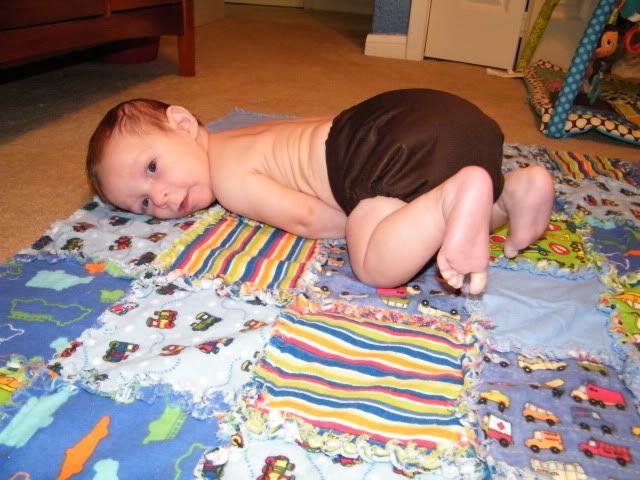 Rolling back to belly- he wouldn't do it while I had it on record but at least I got still pictures!