If he isn't playing with his feet...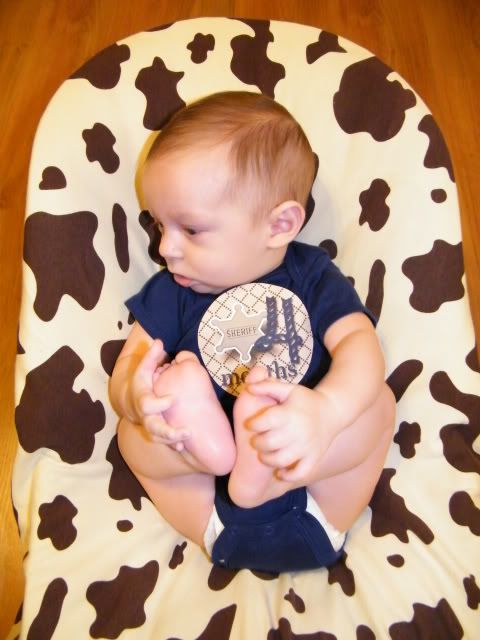 He's eating his hands!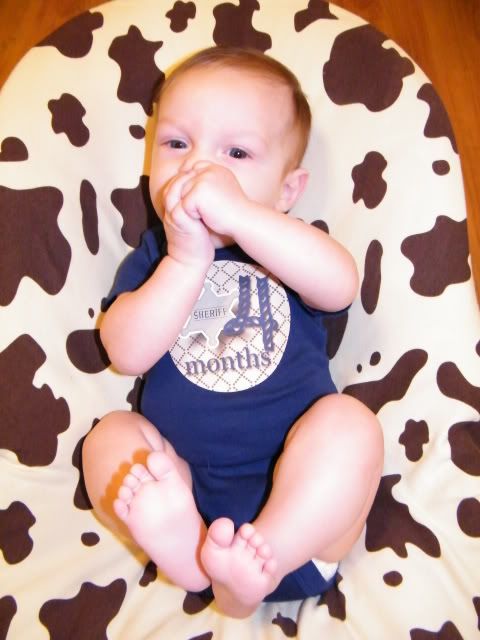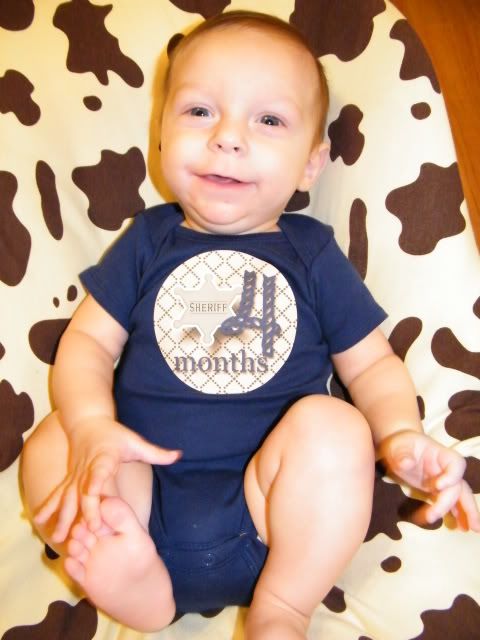 Weight: 14pounds 10.5ounces (35th percentile for EBF boys)
Height: 26.25in (90th percentile)
Head Circumference: 16.5in (75th percentile)
Size 2 diapers/ Medium Tuck&Go and Size 2 Weehuggers
0-3 onesies (we'll be in 3-6 in the next week or two)
3-6 sleepers and rompers
0-3 pants
Four months?! That's a third of a year! Time keeps going by faster each day and I just want it to slow down so we can enjoy each minute more and more! Truitt is generally much happier during the day but the fussing starts every evening around 6. It isn't the inconsolable screaming of colic but he's just very tempermental and not a happy guy in the evening. We are still in the recliner but now instead of sleeping on my chest he sleeps in the crook of my arm or across my lap or belly. He is usually "up" at 1:30, 3, 5, 7, 8, and 9 to nurse. By "up" I mean he starts rooting around and I normally wake and get him latched before he completely wakes up. To do the math for you that's about 4 hours, an hour and a half, two hours, two hours and then up hourly until he decides he's ready to get up which is 7 some days and 9 some days. I have been reading on sleep training but I am frankly too tired to do it!
Truitt is still exclusively breastfed and we are both loving it although I would be more than thrilled for him to take a bottle from daddy so that I could sleep for longer than 4 hours for the first time since midpregnancy. We have bought a sippy cup but he didn't want to have anything to do with that either.
His favorite thing seems to be chewing on his hands and playing with his feet. He is a drooling monster but I feel his gums daily and no tooth buds (which I am fine with) but I read normally babies start producing a lot more saliva around 4 months.
He still hasn't been away from momma for longer than 3 hours (due to the no bottle taking and momma's nerves) and we love our days at home together!

He still LOVES bath time and hates the carseat- big boy and carrier. He is super ticklish and laughs everytime he is getting his clothes changed. He also thinks that when he lays down on the changing table it is time for him to roll over onto his belly- silly boy!!!

Our doctor visit went great and Dr L said that I asked questions on everything he brings up at the 4 month appt so he didn't have anything left to tell me. Easiest way to talk about it is in bullets so here we go-

*Lymph Node- Truitt still has a node on his neck that sticks out. I immediately think of the worst but he assured us it is normal and even showed me where to feel some more in his hair line

*Soft Spot- may seem silly but I was worried because his soft spot is only the size of a dime (maybe nickle) but since his head is growing normally and both sides are symmetrical it is ok. Some babies just have small soft spots!

*Sunscreen- the bottle says not to use until 6 months. We bought a SPF 50 long sleeved swim shirt and he will wear a hat but I still wasn't sure. Dr L said guidelines have recently been changed stating that it IS safe for babies 4 months and older to use sunscreen and it is highly recommended. He said to make sure to remember his scalp!!!

*Weight Percentile going down (is he too skinny!?)- Society has gotten to where they think fat babies are healthy and that is not ALWAYS the case. A healthy baby can be chunky or thin and Truitt is very healthy! He is right on track on the exclusively breastfed boy chart and because he is SO active it is expected that he is lean.

*Sleep, is he needing to eat at every waking?- No. At his age and size he is not needing to nurse every 2 hours at night so he is probably doing it for comfort. I should still expect him to need to nurse every 4-6 hours but can try to wean him from eating every 2 hours at night. He will soon learn that waking doesn't mean getting to eat and he will realize it's easier to just sleep.

*6pm Fussiness- He confirmed that it's not colic anymore. He said babies are like elderly with dementia and sometimes have "sundowners syndrome" where they just have a hard time winding down at the end of the day. We can expect this to go away in the next few months and can try to reduce stimulation more to help calm him :)

*Solids- He sugguested that we start rice cereal mixed with breastmilk to a pasty consistency once every few nights by spoon and progressing from there. He said that it's fine if we want to wait though. After he starts taking cereal daily we can add in "stage 1" foods after about two weeks. I am thinking about starting cereal this week because he seems to be so interesed in what we are eating BUT I am still conflicted about this. With the recent studies of possiblity of food allergies and the increase in chances of obesity I just don't know yet. We will see how he takes to cereal and go from there.
Shots went better than last time- he got three shots and then the oral rotovirus again. Momma and T only cried a little this time! The doctor did say that he's more likely to run a fever this time since it was the second round for all of the shots. I pray my baby boy doesn't get sick!