I have a sore throat. I am PRAYING that it's due to the weather changing (today it was 60, tomorrow it's supposed to snow) and just allergies. I googled if you're supposed to continue nursing while sick and everything says yes and that more often than not baby won't get sick ::Crossing fingers:: but I know it will break my heart if he gets sick.
Things lately have been going pretty well. I have started a blog entry two or three times but he wakes to eat and I never finish. E went back to work last Monday and I did better than expected. My mom was with us Monday and Tuesday and then his mom stayed with me Wednesday and Thursday. They would watch him while I slept and then I'd nurse him, hand him off and then go back to sleep. I've come to realize that the hard thing is- on top of dealing with no sleep from a newborn, your body is also trying to recover from a major surgery. Each day I had his mom come later and later in the morning and I think I'm going to try this week by myself. I needed the help last week because my stomach was still so sore I couldn't walk while carrying him but I'm feeling MUCH better. E was off on Friday because my dad came up from Houston and it's been nice to have the extra time with my husband. It does seem like we have non-stop visitors. I appreciate all of the excitement everyone is showing but we are sooooo tired! Nice thing about breastfeeding is I just say it's time for the baby to eat and then people leave.
Breastfeeding is going really well. We haven't had to supplement since last Sunday night/Monday morning. During the day he eats every 3-4 hours but at night time he begins cluster feeding and eats at least hourly until about midnight. Two nights ago he slept for FOUR hours and last night for three in a row and then begins cluster feeding again until about 7am. It felt SO good to sleep for that long though when you're used to only two hours at a time! I need to get on a regular pumping schedule. Right now I'm only doing it once or twice a day, getting about 2oz (1 from each side) after nursing him. I'm going to ask the doctor on Tuesday when we should try to start feeding him some breastmilk from a bottle. I've read not to do it too early because then they may not want to go back to the breast (although we didn't have this problem when we were supplementing) but not to wait too long because then they will not take the bottle.
I also need to ask about sleeping. Last week I told the pedi that we were letting him sleep on our chest in the recliner because it was the only way any of us could sleep and he said that was fine, just to be careful and not lay down with any blankets around. He said the first few weeks we need to do whatever we can to sleep. I just don't want him to get to where he'll ONLY sleep on us. During the day he sleeps in his vibrating bouncy chair and we're going to try the swing in the next day or so but he doesn't like to be laying flat on his back.
I go for my two week post-op appointment on Tuesday and I think I'll be cleared to drive BUT the "don't lift anything heavier than the baby" restriction doesn't get taken away until 6wks so how do I go anywhere if I can't carry his carseat? I guess I could leave it in the car and just carry him? We've only been out of the house twice so far- once to the doctor and once to E's parents. With cold and flu season we're planning on keeping him out of public places as long as possible. I cringe when I see teeny tiny babies at walmart!
Whoa! I can't believe I was able to finish this. Truitt is haning out on his Nana's chest so he's pretty content. I'm going to take the opportunity to eat something. Speaking of eating, I'm down 35lbs with only 6 to go to pre-pregnancy weight!!!
Here's what we've been up to since I've last posted.
How we rang in the new year
Daddy looking a bit tired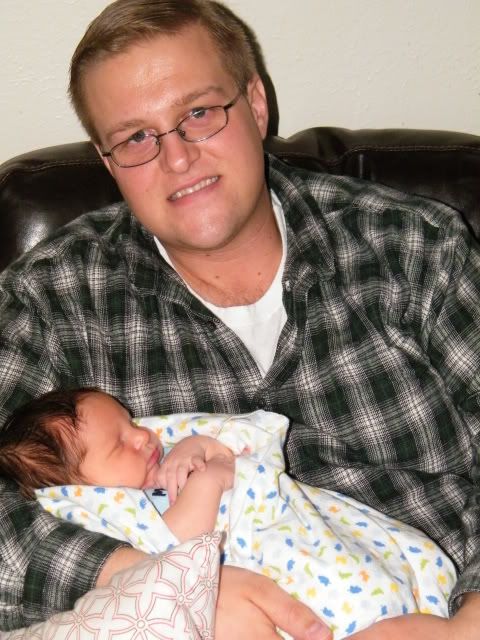 Look! Daddy can multitask
Mr Man has super greasy hair- rocking the mohawk!
My first pumping results! I was proud :)