Well the awful diaper rash is back. Once it cleared up we were only putting cream on every few diaper changes and he was doing great. A few days ago his bottom started getting red so we started using the cream every change and now it looks horrible again. Tonight we're going to soak his bottom in warm (soapless) water and then keep a diaper off of him for an hour or so and if it isn't better in the morning I'm calling the doctor.
Also, we're dealing with some nasty baby acne. It's really bad on his chin and now he has spots on his forehead and even some on his ear! Thank goodness it doesn't seem to bother him at all. Everything I've read and heard from mommy friends says to just wipe it often and it will go away on it's own.
Last night we finally tried Colic Calm. I knew it was going to be a rough night because we were on the go all day so he was in the carseat a lot so he slept a lot. About 11pm he had been screaming (not just crying but really screaming) for almost an hour and nothing would comfort him so we went ahead and gave him the Colic Calm. I don't know if he was just exhausted or if it really worked but within 10 minutes he was asleep and stayed that way for 2.5 hours. The stuff turns their mouths (temporarily) black but I tasted it and it's not bad at all. It also warns that it changes baby poo black and our first few poos overnight were black and now they're green. Hey, if it works, it works!
Friday was BEAUTIFUL so Truitt finally went on his first walk in his stroller. The girls enjoyed it too!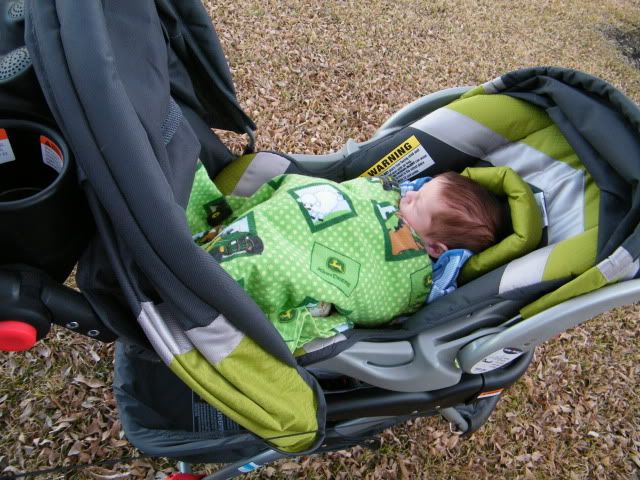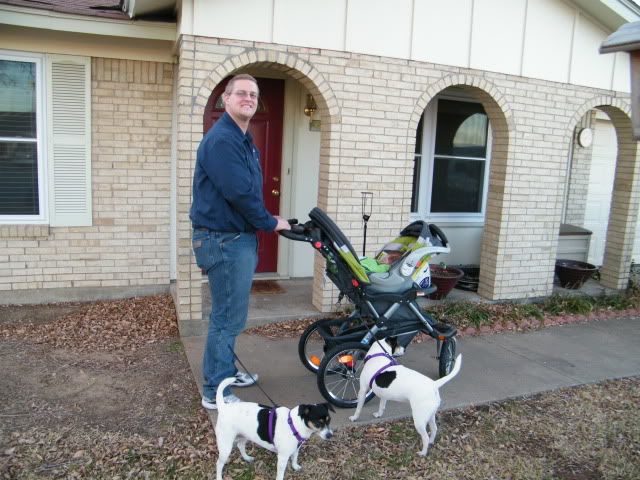 Bathtime hasn't been too enjoyable (for him or us!) but Friday night we moved him from the sink to his bathtub and while he didn't like it at first, it quickly grew on him!