This has to be one of my
favorite recipes
EVER! I think E may let bananas turn brown just so I'll make it. It is absolutely delicious- I hope you try it out! Also, it makes your house smell FANTASTIC while baking! The only difference is you use peanut butter instead of regular butter... SO GREAT!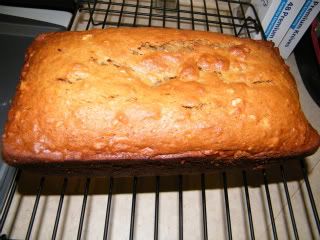 Cooking spray
1 1/4 cups all-purpose flour
1 teaspoon baking soda
1/2 teaspoon salt
1/2 cup creamy peanut butter (do not use "natural")
2/3 cup sugar
3 large ripe bananas, mashed with a fork
2 large eggs, at room temperature, lightly beaten
1/2 cup chopped walnuts or chopped pecans (optional) **I USE A TON OF PECANS**
1/2 cup miniature chocolate chips (optional) **I DO NOT USE CHOCOLATE CHIPS**
--------------------------------------------------------------------------------
Directions
1.Preheat the oven to 350°F. Mist a 5 x 9-inch loaf pan with cooking spray.
2.In a small bowl, mix the flour, baking soda, and salt with a fork. In a large bowl, using an electric mixer on medium-low speed, beat the peanut butter and sugar together until well blended, about 2 minutes. Beat in the mashed banana and eggs; mix well.
3.Using a wooden spoon or flexible spatula, stir the flour mixture into the peanut butter–banana mixture, mixing until just combined, scraping down the sides of the bowl with a flexible spatula if needed. Stir in the chopped nuts and/or chocolate chips, if using.
4.Pour the batter into the pan and gently smooth the top with the flexible spatula. Bake 45 minutes. Cover the pan loosely with foil and bake 10 to 15 minutes longer, until a toothpick inserted in the center comes out clean. Let the bread cool on a wire rack for 10 minutes in the pan.
5.Remove the bread by running a paring knife around the inside of the pan to loosen it, then inverting the pan to release the bread onto a wire rack. Carefully turn the bread right-side up and cool completely. Slice and serve. Wrap any leftovers tightly in plastic wrap and foil; keep at room temperature for up to 3 days, or freeze for up to 1 month.