Thank you so much
Kelly
for my award! If you haven't ever stopped by Kelly's blog you really should. She recently got some GREAT betas (and progesterone levels) in and we're all waiting for her ultrasound in 2 1/2 weeks to get some great news and find out how many beans are there after a IUI with 3 mature follies! Love you Kelly!
So, the point of this whole thing appears to be to talk about what I'm happy about today and what I'm hopeful for tomorrow... as if you couldn't get that from the title... but alas, it felt like an explanation was warranted and Kelly did it best so I copied hers!
Of course you all know what I am happy about- THIS PREGNANCY! I know that my infertility journey was only 6 months compared to so many of my dear bloggers that went years to achieve pregnancy and the countless others that are still on their way to pregnancy but I feel like each day is such a blessing! I am so happy that up until now (and hopefully until delivery) I have had a beautiful pregnancy without any major complications and I have a wonderful healthy little boy growing strong inside of me! I am happy for the wonderful support system of friends (including all of you!) and family that I have going through this pregnancy with us!
Oh and this makes me REALLY happy!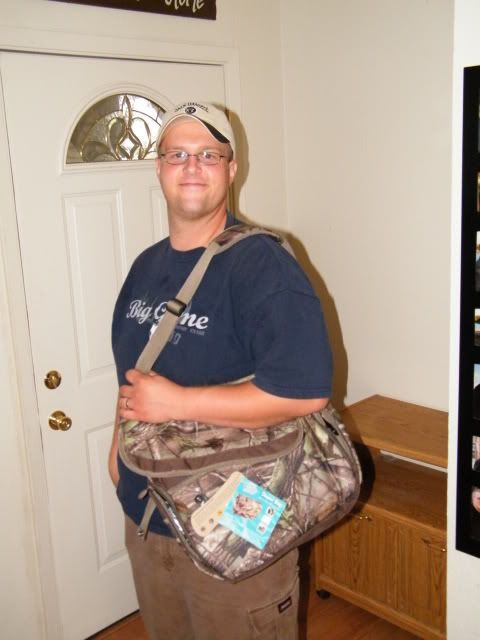 E texted me saying he had "bought us a surprise" and when I got home I saw this diaper bag! It may not seem like much but he picked it out on his own and bought it without any hints placed or anything.
As for the hope part it's pretty obvious too. I hope that this pregnancy continues to go smoothly and that we welcome a healthy happy baby boy into our arms this December or January. I am hopeful that I can be a good mother and continue to be a good wife to my husband. I hope that I am able to raise this child in a happy home and give him every opportunity to be anything and everything he will ever want to be!
I hope that all of my pregnant friends also get to experience happy and healthy pregnancies that are complication free and that everyone welcomes their babies into wonderful homes. I am hopeful for the friends I know of that have been given news of birth defects on their children that their babies will come out strong and fighting and the doctors will be able to repair any problems and have them safe at home as soon as possible. Also, I am so hopeful for all of those I know that are still trying to concieve; hopeful that they will soon achieve healthy pregnancies and hopeful that they have strength to continue as beautifully as they have so far!
As the last step in fulfilling my award requirements, I am to nominate 3 of my favorite bloggers. I would like to nominate:
Coco at
Wishing, Hoping, Thinking, and Praying
Mrs V at
Becoming a Family of Three
Tina at
The Ros' Bowl
I hate that it's only 3 because I love all of you!