23 weeks 3 days!
Our baby boy is doing great but he's one stubborn toot!
I gained 7.6lbs since last visit (OUCH!) BUT I swear a good two pounds had to be my clothes. Not only was I wearing jeans instead of my normal shorts but we had Hurricane Hermine rains here all day and I walked/ran into the office during a heavy downpour so my pants were literally dripping wet.
Anyway, our little man is measuring one day ahead at 23 weeks 4 days (which made the EDD show 1/1/11!) and his heart was beating at a beautiful 144 beats per minute AND HE WEIGHS 1 POUND 8 OUNCES! His brain, heart and belly look great and his bones were measuring rightt on track. My placenta and cervix look just as they're supposed to and the doctor said based on the ultrasound he doesn't forsee any problems (knock on wood) in our future!
As for getting gender confirmation Dr P spent a good 5 minutes trying to get our sleeping little guy to move because he is already head down(!!!) and his bottom is right at my belly button. The ultrasound doesn't make good contact because there is not complete skin contact (since my tummy button is a hole and not flat with my skin) so there's a dark splotch on the ultrasound but we did see "the turtle" a few times but no great money shot. Dr P did say boy and that he wouldn't say that if he weren't for sure! For some added assurance we will be going for a 3D/4D ultrasound the first week of October!
As for pictures- Dr P did give us a dvd of the whole thing and said we could get still pictures from that but baby never gave us a good profile view! Here are a few of the things I did get off the video!
Head: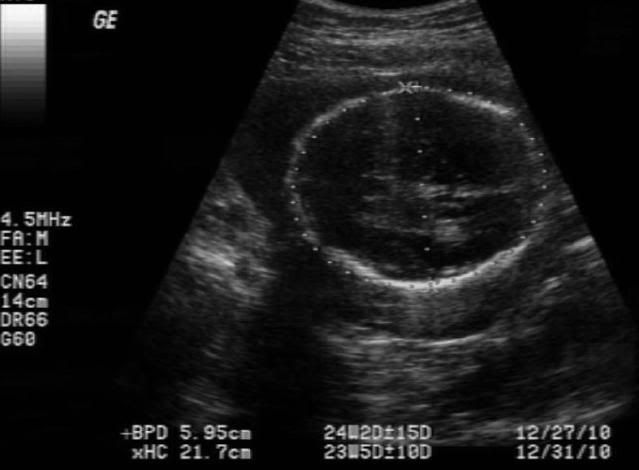 Foot:
Leg: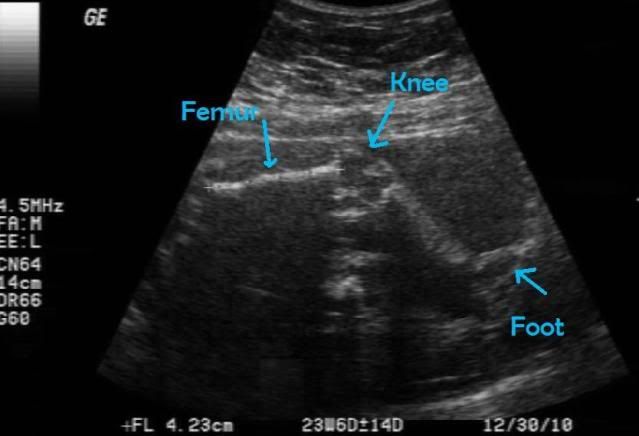 Heartbeat: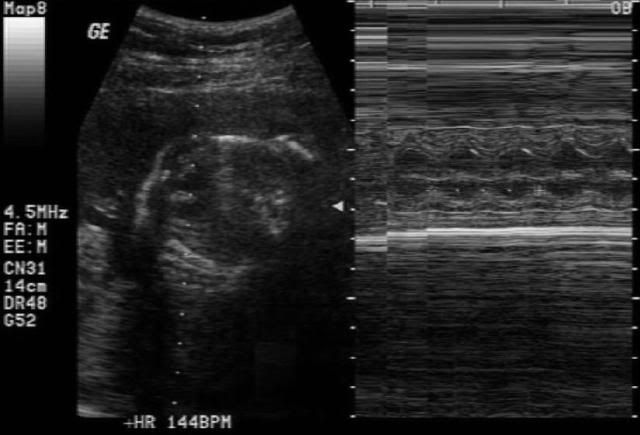 I got those by watching the video and then pausing and doing a print screen then pasting in paint. When I have more time and energy I will try to get some more pictures off the video!
All in all baby and I are great and we couldn't ask for more.
OH AND MY NEXT APPOINTMENT IS NOW ONLY 3 WEEKS AWAY. When did we get to that far in pregnancy?!?!?