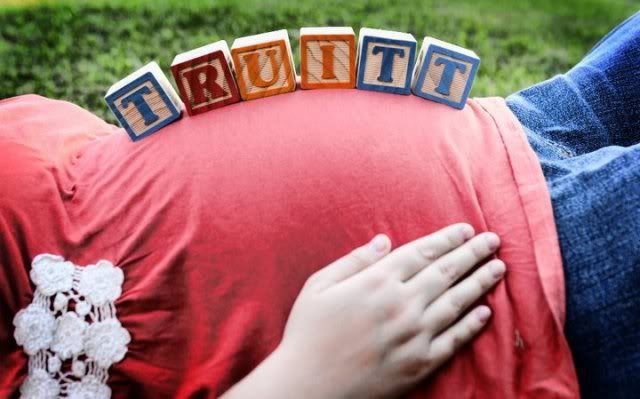 I still would like for this blog to not be "googleable" and since that isn't a very common name I will type "T.R.U.I.T.T." If you mention his name in a comment please do something similar.
When E and I first started dating we were in his truck one day already talking about baby names and he brought up his grandfather's middle name- T.r.u.i.t.t and I fell in love with the name (and E too!). Amazingly enough we were on the same stretch of road when we told his parents that we were pregnant! His middle name will be Ray and that is E's other grandpa's middle name. We are so happy and love our little man so much alread!
Saturday I'm off for E's cousin's baby shower (which I have a super cute dress that nicely shows off the bump!) and then E and I are going to register at Target! Sunday we are registering at Babies R Us!
Two weeks ago one of my great friends from high school and his wife were home from the Navy. They are both photojournalists and she took a few pictures of me. Above is my favorite and I cannot wait to do it when the bump is bigger in late November and here is my second favorite!