That is, as long as baby bean is still a boy! E and I went on a mini-vacation to Houston to see my dad. I had seen some baby bedding I really liked but couldn't find it in a physical store anywhere. One of the online stores is in Bleiblerville and I googled that and it happens to be about an hour out of Houston so we decided to stop! First we went to the Blue Bell factory in Brenham and took a tour and then got ice cream- YUM!!! Afterwards we drove about 20 minutes to Bleiblerville and saw the bedding. It was even better in person than online and we figured since we were there we might as well buy it and save on shipping cost- so we did! I still need to order the mobile, hamper, and window treatment but I'll wait until we get closer to our due date. The company has a full refund or exchange policy so if baby bean is a girl we can swap or get our money back!
And I present you with our bedding!!!!
I am in love! We will painting the walls some shade of brown or khaki and will be putting this decal on the wall!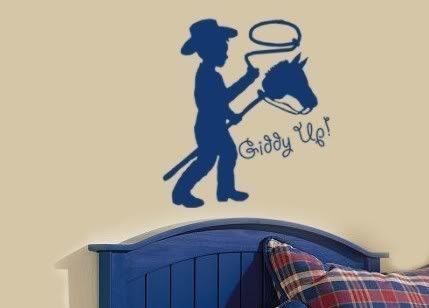 When are you planning on doing your nursery? I think we are going to paint at the end of September or early October and I'd like to have everything set up and all of the furniture by Novemeber... is that too early? Also, when are you wanting your shower? I'd like to have mine November 20th, one day shy of 34 weeks. It is the week before Thanksgiving so I don't think anyone will be traveling yet and that will give me time to get everything organized hopefully before baby bean gets here. E's cousin's wife is having hers when she is only 27 weeks and I feel like that is too early... I know there is not set time on when you should or shouldn't have one but what do you think?