Thanks again for all of the prayers! T just called and J is on her way home. After receiving two units of blood she is doing much better. The doctor checked her left tube and ovary during the surgery and they are completely intact. She goes for a follow up on Friday and I think they'll discuss where to go from here.
My great deal for $40!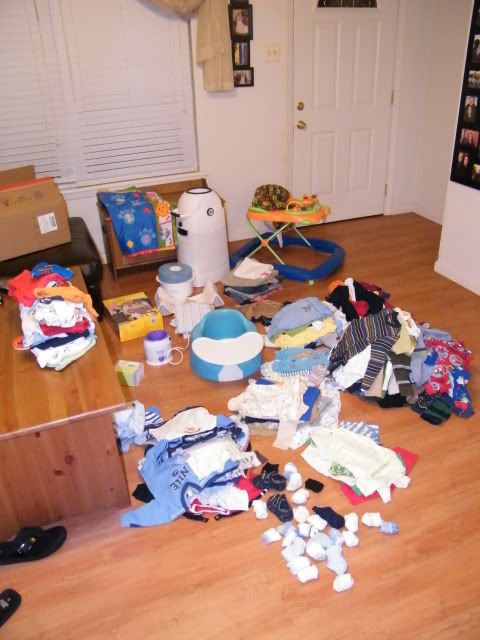 One of my high school friends has a little boy who will be two in December so the seasons match up great! She had a garage sale this weekend but I couldn't go because of work so afterwards she told me she had some stuff left and asked if I wanted it all for $40. What a steal! Not pictured is a pack and play- I opened it and couldn't get it to fold back up so I put it out for E to figure it out tomorrow. So a pack and play, a Bumbo with tray, a walker, a never been used baby carrier, bottle warmer, travel bottle warmer, bottle drying rack, sleep positioner, diaper champ (it uses regular trash bags so saves money where as diaper geenie has to use specific bags), a few maternity clothes, play mat and two trash bags worth of clothes! I went through all of them and orgainzed by size (that's why it's in piles) and got rid of what I didn't want (the two small piles on the table) I cannot believe how great the stuff is! Most of it looks brand new! Now if only I had a place to put it...