How Far Along: 21 weeks! There are now more weeks "down" than what's left "to go"!
How Big is The Baby: ONE POUND!!! According to thebump, baby is growing from the size of a
BANANA
to the size of a
PAPAYA
! What to expect says a
SPAGHETTI SQUASH
!
Total Weight Gain: I've decided that I will only answer this on doctor weeks since our scale is crap. My doctor and I will both be very pleased if I can keep the weight gain at 1 lb/week or about 5 per month.
Maternity Clothes: Pretty much exclusively!
Sleep: Friday night I went to bed at 8:30. I was up at 10, 12, 1:30, 3, and 6- my alarm clock went off at 7. Saturday night I went to bed at 9. I was up at 11, 1, 3, and 5- my alarm went off at 7. Last night I went to bed at 9. I was up at 10, 1, 2 (and didn't fall back asleep until 3)- my alarm went off at 5.
Gender:
BOY
!!!
Movement: More frequent daily. E tried to feel him moving around but as soon as he touches my belly the baby stops moving. Even if he wasn't being difficult, I don't think he's kicking hard enough yet to be felt through the skin.
Food Cravings: Still fresh fruit. My mom and I stopped at a fruit stand the other day and got some of the best plums I've ever had.
What I Miss: ***DISCLAIMER- I MAY START TO SOUND WHINY AND I WOULD NOT TRADE ANYTHING FOR THIS PREGNANCY. I KNOW MANY WOMEN WOULD LOVE TO BE IN MY SITUATION RIGHT NOW BUT THIS IS MY BLOG AND I'M SAYING HOW I FEEL*** I am SO tired! I would love to be able to sleep through the night. I would even love to sleep for a 6 hour stretch! I guess it is better preparing me for baby but if you're asking what I miss- I miss a good night's rest!
What I'm looking forward to: E being able to feel a kick! We're only two and a half weeks away from our big anatomy scan (why is my doctor the only one that waits until 24 weeks?!) and three weeks away from 24 weeks!
Milestones: We are now OVER the halfway point!
This week's picture.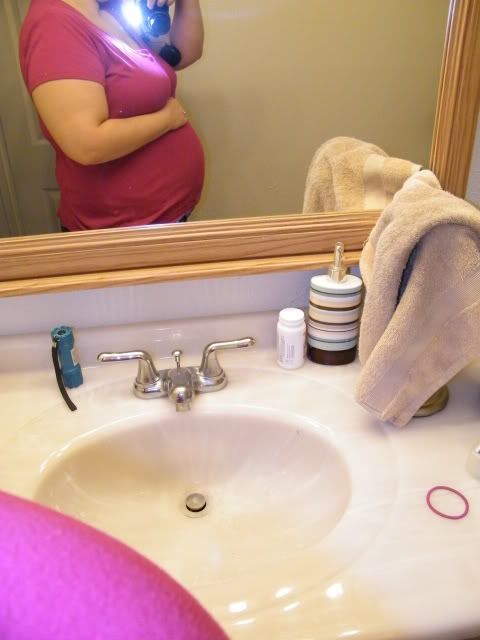 Holy geez- same outfit 4 weeks apart...