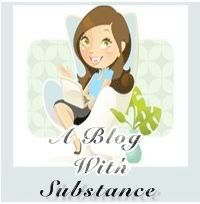 Thank you so much to wonderful Coco at
Wishing, Hoping, Thinking, and Praying
for nominating me for my very first award! If you don't follow her blog- you should!
The Rules for Acceptance of this Award are fairly simple:
*Thank the blogger who bestowed the Award on you.
*Sum up your blogging experience, philosophy and motivation in five (5) words.
*Pass the Award on to 10 deserving bloggers.
Only 5 words?! Well as you know I don't really make anything short but we'll start from the first post-
TTC
(I didn't want to take up 3 words),
Pregnancy!
,
Worries
,
Support
, and
Happiness
. I am so lucky to have "met" so many of you lovely ladies through the blog world. The only thing I'd change about the award is you are ALL deserving but I guess here are my 10-some of my first blog buddies. You ladies are ALL amazing (including those of you who aren't listed) and I love everyone's blogs!
A at
The Baby Race
Amber at
Life: Chats and Rants
Green Sprout at
The Fertility Fight
Kelly at
Little Looman Log
Ms Polka at
Ms Polka Dottie's Life
Nessa at
Nessa Takes Her Life Back
(who is going to catch that egg!)
Paige at
The Turning of Paige
PreHeated Oven at
Preheated Oven-
Although there is now a bun in her oven!!!
Rebecca at
Trying Not to Scream
Stickles McQueen at
Overcoming Obstickles