So I had a great weekend off (even better that I went to work yesterday and saw on my time sheet that they were days off WITH PAY without having to use any of my comp/sick/holiday time!) and E and I went shopping for baby on Sunday. It was mainly supposed to be baby looking but we saw some great deals on clothes that we couldn't pass up.
First we went to Buy Buy Baby. The store is set up just like Bed Bath and Beyond and you can actually use Bed Bath and Beyond coupons there on SOME of the items (none of the big stuff though like furniture, clothes or diapers) so that was neat. The strollers are all out so you can try them out and we were still pretty sure we wanted the Chicco Cortina travel system because it was our favorite out of everything they had and it gets good reviews. The two complaints on it are #1 the carrier does not fit in a grocery cart. I know it's a safety thing but I have never heard of problems with carriers in carts and I can't imagine trying to do a week's worth of grocery shopping with either the carrier taking up most of the main basket or pushing a grocery cart while pulling a stroller. The other gripe on it is that tall/long babies out grow the seat VERY quickly. There's no way to tell if our child will be long but I'm 5'9 and E is 6'0 so chances are he will be. Also, it's VERY heavy.
We then went to Babies R Us. They had a few different strollers and we saw a Baby Trend stroller that wasn't at Buy Buy Baby or the store I looked at a few weeks ago. The stroller is a 3 wheel jogging type but it actually is so much easier to steer. It is so much lighter (the stroller and the carrier) and it's really easy to fold up and reopen. When I watched W his travel system was Baby Trend (although not this style) and I really liked his carrier. The color is a little different than how it shows up in this picture- ITS BRIGHT GREEN but E loves it and normally he doesn't speak his mind on things and he told me that he wanted this one- for sure. So our mind is made up. Unfortunately it's a new style so there aren't many reviews on it but the other Baby Trend systems have great reviews.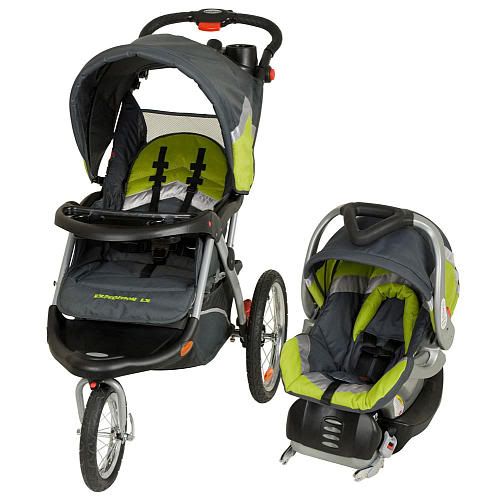 We also found the pack and play and swing we want. They're by Graco and the pattern is Laguna. I was going to do pictures but am a bit too lazy right now. I had said I want gender neutral on all baby gear that way we can use it for all of our children regardless of boy or girl and the travel system will work but I couldn't find a pack and play I really liked other than this one. Then I thought it doesn't matter what color it is... it and the swing will stay in our house so who cares!
On our way home (after stopping at Jamba Juice for smoothies!) we went to a large outlet mall. First we went to The Children's Place. Everything we bought was either on sale for $1.99 or $2.99! I bought a few things for E's cousin's baby but we spent $33 dollars. I calculated the cost based on the tags and had we spent full price on everything, without tax it would have been $136.50 for everything!!!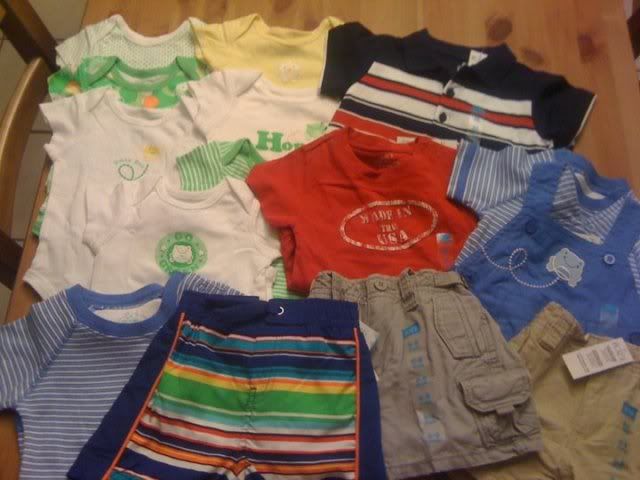 We then went to Carter's. Everything was an additional 20% off from the ticketed price. E picked out most everything and got bigger sizes because he said everyone will be buying us tiny stuff but I got a newborn and a 3 month sleeper. Each item was originally $9-$14 a piece. We spent $43! Without tax it would have been $149 had we paid ticket price!
The newborn sleeper on the bottom right says "Snugglesaurus" and look at the feet! THERE ARE DINO TOES!!!
Sorry for picture quality... I have an Otterbox on my iPhone and it makes the not so good picture quality even worse. One day soon I'll give up on my camera cord reappearing and buy a new one.
I know we shouldn't buy many things now because we will get a lot at the shower but E was really into it and I couldn't resist the sales. I told him we're done buying for a while and he is absolutely fine with that!
I am still worried that at the 24 week ultrasound they're going to tell us girl again. I would still be thrilled to death with a little girl but we just bought all of that and have our nursery bedding down to two choices (that will be a different post on a different day) and have the name all but in stone. I have looked at a lot of boy/girl ultrasounds and don't see it switching but I still wonder.
Once we have our next ultrasound at 24 weeks- well I'm going to the Peri to check on my placenta again at 23 wks 2days- we will be registering. I never thought I'd say this but time is really speeding up! I used to think my second trimester would never come and now here we are almost halfway through my pregnancy. 17 weeks!
I am still so nervous something is going to happen to him and this pregnancy isn't going to make it to term but I am trying to get over that.
OH, AND I AM ALMOST POSITIVE I FELT HIM MOVING LAST NIGHT!!! E and I had just layed down and I felt a LOT of fluttering. I know it wasn't gas so it had to be him! I cannot wait for it to get more often and stronger!
***They called yesterday with the results from the second part of my first trimester screening and based on my blood the chance for Downs or Trisomy 18 are 1:10,000 and chance for a spinal tube defect is 1:13,000. The Jewish screening should be back by mid next week.