Changed to 99.9% sure
BOY
!!!
Today was my follow up blood draw for my first trimester screening. Cystic Fybrosis, Fragile X, and the other one (it was 4 letters) came back negative so I will not have to be retested for those for any of our next babies. My Downs chance is 1 in 240. I was alarmed by that but she said you aren't considered abnormal or high risk unless you are 1 in 50 or less. Trisomy 18 is 1 in 1000 or 1 in 10000 I can't remember for sure.
So as the nurse was taking my blood (it will tell me again what my chances are for Downs and Trisomy 18 as well as doing the Jewish panel because my father is Jewish) she asked if there had been any changes since last visit. Remember, this is not my OB, it's a perinatoligst's office because my doctor doesn't do the NT ultrasound. I told her about the bleeding and ER and how the ER said it was complete previa but the follow up ultrasound the next day showed it was fine but I was still having a lot of anxeity worrying about it. She then plain as day said "Well would you like an ultrasound today?!" WHAT?!?! OF COURSE I WOULD!!! I asked her if it would be covered by insurance and she said yes and if for some reason they didn't cover it at first to appeal it and say it was a follow up to the bleeding.
E didn't come with me because I told him it would be blood only and he didn't need to come. Luckily he was getting off work and he only works about 10 minutes away from this doctor's office. The nurse said it would probably be a little while since I wasn't on the schedule but she would make a DVD of the ultrasound just incase he didn't make it in time!!! E got there and about 5 minutes later the tech came in. She told me that my placenta is low lying but it isn't touching any part of my cervix. She measured baby and spent a lot of time showing us each part of the baby but baby wouldn't stay still for pictures so none of them turned out too great. We told her that the doctor had said 95% sure girl but that was at 12 weeks and she went to the legs. Baby was sitting firmly indian style and wouldn't budge! She said that when the doctor came in he'd push a little harder and try to get baby to move.
Baby measured at 16 wks 4 days (we're 16 wks 2 days) and the heartbeat was 150.
The doctor came in (a different one than what we saw last time) and spent a lot of time on my placenta. There were these pockets on it and he said they call them stretch marks. The way he explained them is that they're looser tissue and blood will pool in them. Most likely one had burst and that's what caused the bleeding. He said that they are fairly common and should not have any effect on the baby or its growth but would like to do another ultrasound in 6-8 weeks!!! He went down to baby's legs and while they were no longer crossed, baby was kneeling against my back as if praying. He was able to get baby to move and told us to get ready because he was about to have it in view. He froze the frame and I kept thinking that I didn't see "three lines"... he then said, there's the penis and typed BOY on the screen!!! E said "WHAT?!?!" and the tech bursted out laughing and said she knew we didnt' realize it was a boy!
At 12 weeks the boy/girl parts are still so underdeveloped it is so hard for anyone to tell and that's why it looked like girl. They said we can go out and buy all we want now because they don't see it changing! I'm still worried at 24 week anatomy scan they'll say girl!
So now we are NOT going to do the 3D scan since we already found out. I called Dr P's office and left a message saying why they did the ultrasound- my anexity- so they won't be confused when they get the ultrasound report. The only thing is the peri made my follow up for in 7 weeks which is right when I'll be going in for my 24 week scan with Dr P. I'm not going to turn down 2 ultrasounds in a week though!!!
Straight on view of baby!
Profile- head on right, ribs and chest on left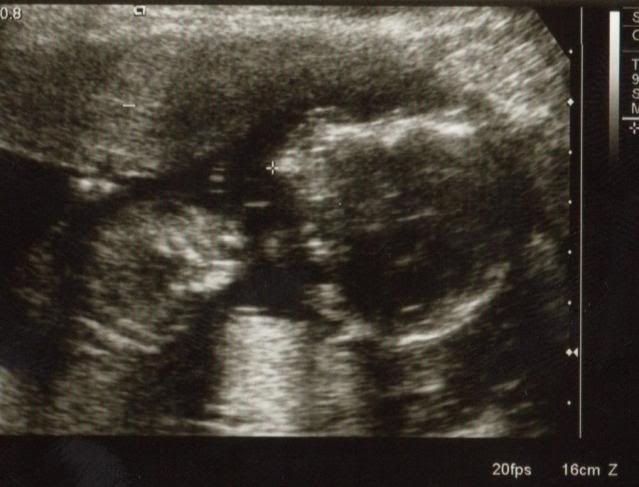 Sweet wittle arm, hand ,and fingers!
BOY PARTS!!!! Bottom on left, leg on top, boy parts, leg on bottom!!!