So E and I decided that we wanted the people most important to us to know ASAP. My mom's birthday was Saturday so when I got off work I ran to Target and got her a card and a onesie... when we got to her house she came outside and began reading the card and she said "I'm not a grandma!?!" then it hit her. It was perfect and just as I would have hoped!!!
As you long time followers know, I am VERY accident prone and tend to have to go to urgent care often for stitches and what not so E decided that he wanted to tell his parents by getting in the truck and saying, "well I thought we'd paid off all of the hospital bills for a while but ol' accident prone went and got pregnant!" I have never seen his dad smile as big as he did! His mom was already talking about going shopping for our little bean!
My best friend and I have been besties for 17 years so I sent her a picture of my tests and said Goodmoring Aunt Bestie! She texted me back and forth in complete shock and then called me a few hours later to make sure it wasn't a dream! The other friend that I wanted to know didn't answer her phone when I called her this afternoon so I texted her husband and asked him to have her call me. She called from his phone saying she'd left her phone at home and I asked her "why did you leave your phone at home the day I call to tell you I'm pregnant?!??!"
We told E's grandparents by telling them we may miss Christmas Eve because we'll be in the hospital having their great grandbaby. We told my Grandma and Uncle by telling my uncle that this October may be E's last out of state hunting trip for a while because we're expecting and my nana squealed! It was so cute!!!
As for the test, yesterday's was a LOT darker than Friday's but I don't think today's has gotten any darker. I go in tomorrow at 10am for a beta level so pray I get a good number and an even better number on Wednesday. E says I've taken more tests since I've found out than I ever took before. You only thought the POAS additction went away after you saw the double line! I'm still really worried because the line isn't as dark as the control...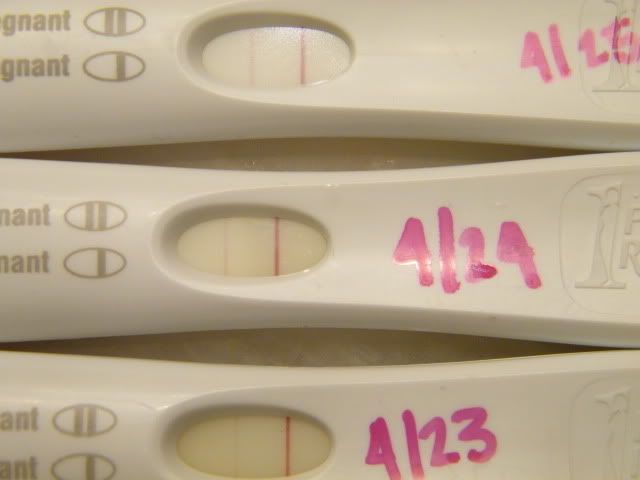 They look much darker than what they show in the picture but still not as dark as the control...
I am EXTREMELY tired but somewhat restless at night and I am much hotter than normal. Today I walked past someone's lunch that had a pickle on the tray and almost lost it right there. I'm not nearly as crampy as I was Thursday and Friday but have felt a few twinges. Every time I pee I check for spotting... I hope I get over that. Please Lord, let our bean be sticky and growing well!
Tonight E asked to walk through the baby aisles at Walmart!
I will update as soon as I have my blood results back. They should also schedule my first ultrasound tomorrow!
Please keep praying for this pregnancy and know that I pray for each one of you every day!!!