My IPS never have gone away and I have had a lot of cramping and "fullness"... This morning I took a dollar store cheapy just because I needed some peace of mind and went to sleep after taking it without looking (I woke up at 5 to pee) and when I woke up THERE IS THE FAINTEST SECOND LINE! I just took a first response test AND THERE IS A FAINT SECOND LINE. What in the world?! This has NEVER happened! Am I really pregnant?! I have been on pr.overa for 5 days, is that going to hurt me? I know it says do not take while pregnant, but I also know they used to give it to you to find out if you were pregnant or not.
WHAT DO I DO?! E said to Call Dr P and see if I can come in for a blood draw and see if I got
two
three false tests or if I really am. What if I am and this doesn't stick?
HOW AM I SUPPOSED TO GO TO WORK NOW. Why isn't it showing in the picture?!
Do you see the second line? Am I crazy?!?! I just want an answer. They barely even show in the picture. I swear they are darker in real life.
****EDIT****
Does this show up on the camera?!?!?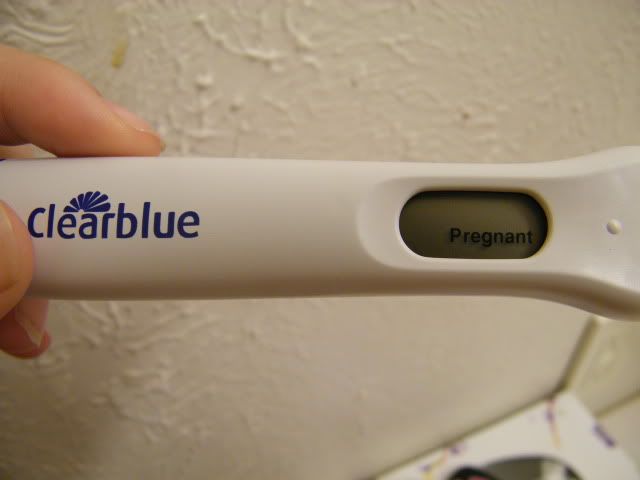 ****UPDATE AGAIN****
I have ONE friend who reads this blog, Hi M!, and she works with Dr P at the hospital on the Post-partum floor and she told me to call ASAP because he was on the floor- I called L&D and they said CONGRATULATIONS! YOU'RE PREGNANT! Quit taking the Pr.overa and call Dr. P's office for your first appointment!
TOMORROW IS MY MOTHER'S BIRTHDAY!!!
Lord please let this be my sticky bean!