This has been a long time coming so here it is! Emma and Sophie are my sweet dogs who think they are, and are treated as if they are, children. Just under 3 years ago I got a call from a friend saying that her boyfriend's boss was selling puppies and I needed to come see them. I got there and he only had two left and I couldn't decide which one I wanted and couldn't stand leaving one alone so I got both of them. They are 3/4 rat terrier and 1/4 jack russel. They have the best personalities ever and are super sweet. Here are some pictures of my girls through the years! Emma has the upright ears and she's bigger. Sophie has floppy ears and her spots on her back almost touch as well as she has a spotted tummy. My best friend's daughter remembers them by saying Enormous Emma with Ears and Spotty Sophie. Enjoy!
The day I brought them home, look how they were itty bitty wittle puppies!
A few months old
Once we moved in with E (and when they started getting fat!)
Last summer
Halloween '09. Hahaha they were roosters!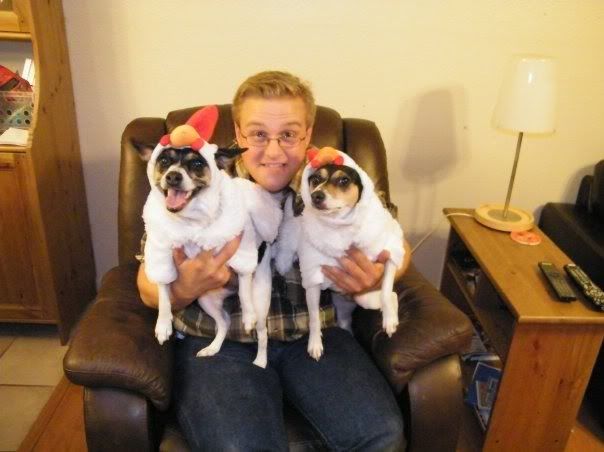 Christmas '09
Christmas Card Picture '09
Snow! I only put them in clothes if it's a holiday or cold!
One of the funniest pictures ever! Emma was mid yawn and Sophie was in the process of licking her nose
And yes, they sleep with us, under the covers!