I forgot to update about the bra shopping. I only bought 2 because I figure I'll need some nursing bras sooner rather than later (positive thinking people) and even after the getting one half priced- it was still $55 for the two. CRAZY! So I'm in the dressing room and NOTHING is fitting so the girl asks what I wore before and I told her the cotton full coverage and she said it runs a size big so I really wear a DDD in the other styles. What?!?! Oh well! So I got two (boring) new ones but they're very supportive and look great under clothes!
Today I refilled my pr.overa script so I will start it tomorrow or Monday depending on when the pharmacy sent the request to the Dr's office. I'm just ready the get everything going again. I completely forgot to ask him about a SA for E so I'll call on Monday and see if he'll order that and if not I told E to call our primary dr and ask for one. We'll see. I'm hoping for super swimmers so we don't have to worry about it. I asked her about skipping 100 but she said he won't let me do that so we'll be taking 100mg on cd5-9 with an ultrasound on cd12 again. Grow follies, grow!
Last night was the banquet for National Telecommunicator Appreciation Week and I ended up on the local news (just for about 1/2 a second) but I'm reaching to shake someone's hand and my mouth is open... it looks HORRIBLE! I was hoping no one would have seen it but E's dad called and to let us know they saw it. Ugh! Hahaha oh well, it could be much worse!
Are you following Julia over at
"Just Relax!"
? If you aren't you REALLY should be (and not just because it puts me in the running for a giveaway!) because now she's back from her blogging break that was horrible for me to endure and is getting ready for her first IUI! She is extremely funny and just a great blog to follow so you should and of course tell her I sent you!!!
Oh, and my sister J had her HSG yesterday and it went really well; no blockage or anything wrong. She still has to wait until June until starting meds and I believe her doctor is going to start her on fe.mara rather than cl.omid. Thank goodness she hasn't said anymore rude comments to me since that last one I posted about!
Lastly I'm going to leave you with some pictures from this week! I'm sorry for the quality, they were from my phone! Enjoy!
My first crawfish ever- AND IT WAS SO GOOD!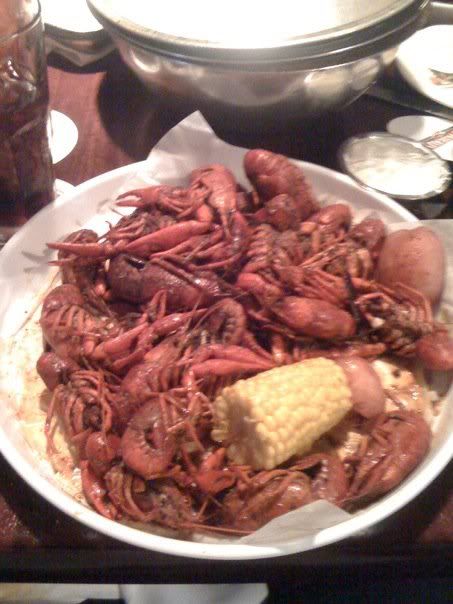 How we spent our Wednesday afternoon- I loooove the lake!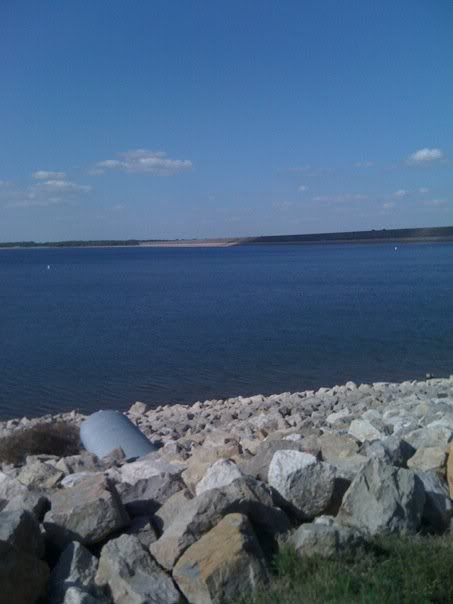 That isn't my Emma- it's E's brother's girlfriend's dog. Isn't it crazy how much they look alike?!?!!? (And isn't E adorable?!)